mens nautical bracelets
14kt high polished shackle links with 14kt white gold anchor link sheave links with VS/F-G diamonds. Total diamond carat weight is 2.42cts certified conflict free supplied by Stuller, approximately 118 individual hand set diamonds. Total weight of the shackle bracelet is 85gms. This is a large bracelet at ten inches. $7,995.00
18k gold custom Guy Beard TMI shackle and mariner anchor link bracelet and matching chain. Each shackle is comprised of four individual pieces and locked. Only the shackle clasp has a spring, is movable and has the sapphire. The links are perfectly timed with eight shackles and eight mariner anchor links to make up a 8.5" bracelet. Each shackle is 17x11mm and each anchor link is 15x8mm. This is not overly large or bulky. Very subtle with class. Just over 50 grams $4,245.00
Matching necklace chain also available. 20.5" and 128gms. $10,875.00
Will ship anywhere in the world with Western Union wire transfer.
#SEALINKS197
Locking anchor shackle around a block with braided line. The last pin is threaded to secure the bracelet. Available in two size links, all yellow 14kt or 14kt two tone gold. The two tone is spectacular! Medium is 11 shackles and 11 turning blocks, large has 9. Large shackle link bracelet next to medium faced watch. $5,075.00
Stud marine links. Custom hand made stud link marine anchor chain 13mm to 21mm links.
Stud marine links 18kt - 22x12mm links 9.25 inches hand polished 107.7 gms $8,080
Stud marine links 18kt - 22x12mm links 9.25 inches hand engraved 106.5gms $7,990

#MLB59 - $1,795.00
Mariner link anchor bracelet with double link connectors. This one is 8.75" and app 30.5gms. Each link and joiner link is one piece and links to the next set. Anchor links are 9mm wide, 11mm long and almost 2mm thick. Double joiner links are 3mm wide and 7mm long. Very unique look. Very premium fancy clasp with double links to match the joiners. Each link set is 7/8" or 16mm. 22" would be app 76gms and $4,495
#BRAC7x12 - $2,095.00
Mariner link anchor bracelet. This one is 9.5 inches long and will fit an average to larger size wrist. There are 24 mariner links plus the clasp. The inside circumference when worn is 8 5/8". This has a working shackle clasp. The pin has to be completely unscrewed and removed to put the mariner link bracelet on or off. If you prefer we can use a lobster claw clasp, tear drop clasp or cabochon snap shackler mariner clasp ($500). Each link is 7mm wide and 12mm long. Solid. Not hollow wire tube. The weight of this bracelet is 32.4gms.

#BRACE7x12 - $2,095.00
Mariner link anchor bracelet that is 9.25 inches long with an inside circumference of 8.25". Same bracelet as above, just a little shorter. Weight is 32.3gms, marine anchor links are 7mm wide and 12mm long. The cross sectional reinforcing link is the same gauge as the link itself. Solid, thick, heavy ships anchor chain links

#BRACE8x15LC - $2,695.00
In stock. 8x15mm mariner anchor links. 9.5 inch length with 8.5-8.75 inch inside diameter. 42 grams. This image shows the teardrop lobster claw clasp directly attached to the anchor link without a jump ring. Should it ever need replacing there is a solder join at the center of the link (look for the mark) so it can be heated and twisted open without cutting the ends of the link and distorting. Solid not hollow. Links are each cast, assembled and soldered one at a time. This one is in stock ready to go, a link can be added or removed depending on your wrist size.
#BRACE8x15tg - $2,995.00
This was a custom order 8x15 nautical marine anchor link bracelet done in tri-gold, yellow, rose and white golds. Total length was 9 5/8" for an inside diameter of 8 3/4". Weight was 42.7gms with an intense high polish. Each link was cast and hand finished, then cut open, separated to join to the next, closed and soldered again. No jump ring on the clasp, it is large enough to thread into the marine anchor link itself. Made to order, allow 3-4 weeks.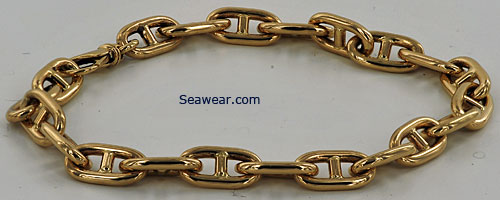 #BRACE7x12lc - $1,985.00
Mariner link studlink anchor bracelet with teardrop lobster claw clasp. Two available, one is 9 1/4" long at 32.1gms and the other is 8 5/8" long at 30.6gms Each link is 2mm thick (12 gauge wire) 7mm wide and 12-13mm long (depending on how agressively that link was polished). These are NOT machine made with the center studlink inserted.
#STUDLINK8838.9 - $2,225.00
14kt hand made stud link mariners anchor chain bracelet. This one was done in 9" and measures about 9 & 1/8" inches stretched out or 23cm. Weight is 34.3gms. 14kt (yellow) gold with premium tear drop lobster claw clasp. The European style anchor link was cast in one solid piece rather than the stud link being added after. Each link is approximately 8mm by 12mm or roughly 5/16" by 1/2" and 2mm thick.
$2,295 In stock 36.0gms, heavy swivel clasp, 9" with 8.25" inside measurement.
#259038 ~ $970- 2,415
4x6mm or 5x7mm
14kt solid puffed anchor link very similar to the famed designer chain link. 14kt yellow gold or 14kt yellow and white gold alternating! 8.25 inches and 20 inches lengths in stock. Other lengths available and take 6-8 weeks to make as they are done one link at a time. Large, heavy, strong secure lobster claw clasp.
SEALINKS198 solid heavy gold fishing swivel bracelet! Note the detail on the swivels and how good it looks on! Once you try this one on you will be leaving it on! This one is is 8.5" and made up of nine swivels. Yes, it could even be done in a necklace but you must be a great swimmer just in case! 8.75" is app 35.5gms! $2,130.00
14kt swivel link chain bracelet or necklace in 3, 5 & 8mm
Large has brommel hooks instead of lobster claw
6x14mm - 8" @ $1,315.00 in stock 21.9gms
7x17mm - 8" @ $1,995.00 in stock 33.4gms
8x21mm - 8.75" @ $3,035 in stock 50.6gms
#SW8.080 - $2,495.00
14kt large custom 8mm swivel link bracelet. Original Guy Beard TMI design. Eight inch length, 6gms heavier than standard as this one weighs in at 38.6gms!
more snap swivel jewelry
#SEALINKS015 ~ $3,365 to $5,525.00
14kt shackle bracelet with locking shackle pin for main clasp. All other pins have been solder locked in place. The block on this style is highly polished and clean. There is not a line on the block giving it a different look.
The links come in two sizes, large and medium. Two colors, all 14kt (yellow) gold and 14kt white and yellow. There are no other choices or options.
Large - shackle is 14x20mm which is just over 1/2" by 3/4" and the block is 10x14mm or 3/8" by 1/2". Weight is app 85gms for 9" $5,525.00
Medium - shackle is 11x16mm or just over 3/8" by just over 1/2" and the block is 9x14mm or 3/8" by just over 1/2". Weight is app 51.8 gms for 9" $3,365.00
#SEAPH6 - 21gms - 8" - $1,470.00
Solid 14kt yellow gold pelican hook bracelets.
#SEALL5 - 12-14gms - 7" - $900.00
14kt lifeline rigging series bracelets. Heavy version for guys at 26-28gms and 8 inches as well as two tone diamond options.
#14ksailor - $1,395.00
14k gold square knot bracelet done in 12 gauge solid gold wire. Commonly known as a sailors reef knot and lovers knot. Two strands of 12 gauge wire, can be left seperate or soldered in several sections as is this one or completely soldered. Most like to be able to see it is individual wires and not a cast piece. Your choice! This would be a men's medium and has an inside diameter of 7 7/8" so will fit a wrist of 7-7.75" around depending how loose or tight you want it. Weight on this one is 21.5gms
#NAB081 - $370 - 1,240.00
Ladies seven inch shackle bracelet with blocks. Made up of ten shackles and nine turning blocks. Lobster claw for secure fastening. That's what the shackle is all about, secure fastening! The smallest link is 5mm or 3/16" wide at the shackle pins. The medium is 7mm or 1/4". The largest is 8mm wide or 5/16". Large size would work for a guy as well with smaller wrist.
#SEA3009 - 7.5 - 7.75" - $765.00
Weights average 17gms for a 7.5" highly polished propeller bracelet with lobster claw clasp.
#SAS7x12 - $125 - 420.00
Named after a very special friend who taught me a lot and was an esteemed member of the SAS. These are a liquidation closeout that I cannot make for the prices listed. There is a limited supply. Stocked in 9, 20, 22, 24 and 30 inches. Made in Italy, .925 Sterling Silver, alternate marine link, mariner anchor links, lobster claw clasp. Smooth links all the way around, the edges are NOT beveled or diamond cut. Each link is 7mm wide, 12mm long and 2mm thick, three links per inch. Average weights are 9"-25gms' 20"-56.6gms; 22"-62.2gms; 24"-67.4gms; 30"-84.5gms. Being real sterling silver the links will tarnish and discolor if worn 24/7, bathing, shower, work out etc. The chemicals in your body and the moisture in the air causes real silver to tarnish. These are not lightazz flat or hollow links. Solid and heavy.

AS935STAB - $395.00
Stud link mariner anchor bracelet. The links are cast in Argentium Silver 935 Pro and the clasp is fabricated out of Argentium Silver 925. Total weight is 39.8gms. Inside circumference is 7.75-8 inches. The total length is 9.5". Each link is approximately 14x10x2mm 14mm long or 9/16"; width is 10mm or 3/8"; thickness is 2mm or 2/16". There are no moving parts to break or stretch. No spring to snap or rust. The master anchor link splits open (takes a strong thumbnail!) and each anchor link side is pinned and recessed to fit, then securely held together by two rare earth magnets. It cannot pull or slide open, it has to be leveraged open.
This one was 9.25" inside circumference or 10.5" long and weighed 44.8gms
This mariner anchor link bracelet is with a lobster claw clasp catch that looks like the link. Bottom center, slightly smaller than the link. This one is 9.5 inches long for a 8.25-8.5 inch inside circumference. Average guys' wrist. 38.7gms These are the three other bracelet clasps we can use besides the magnetic link. Some prefer the traditional spring loaded lobster claw style. Your choice of clasp. $395.00
#EMAL913 - $995.00
Matching mariner anchor link chain. Extremely labor intensive. Not mass produced. Each link is cast and polished. Then cut by hand, opened to attach to the next, closed, soldered and polished again. This necklace took 64 links plus a swivel nautical lobster claw clasp. Can make any length, with or without clasp. Allow 2-4 weeks. This is a European mariner anchor link of 9x13mm. Note the ends are more rounded than the American version. The links are done in 935 Argentium silver while the clasp is standard sterling silver. This one is 87.5 grams, nearly three ounces of Argentium silver. 14kt would be about 110gms
AS93512x21 - Massive anchor mariner link bracelet with magnetic clasp. Each marine anchor link is 21mm long, 12mm wide and 3mm thick. This one shown was 9" long for a 7.75-8.25" wrist. Weight was 65.8 grams. The thickness is equivalent to a 8 gauge wire. Your house wiring is 12 gauge to give you an idea. On an old guy hand $595.00
AS8x20RIG - Rigging link bracelet in Argentium Silver .935 this one is just over 9" long and 31gms. Each link hand cast, assembled and polished by hand. Can add or subract a link or jump ring to alter size. Large heavy fancy lobster claw clasp is 925 sterling fromm Italy. $295.00
#AL12x21as - $75.00
Argentium silver .935 simple stud link anchor link app 12mm wide, 21mm long and 3mm thick. This is a larger link used for a men's bracelet. Completed with two feet of 2.2mm round natural Greek leather cord. Single link weighs app 4.5gms.
#SCBB - $695.00
Very heavy skull and crossbones bracelet in Argentium silver. This comes in at 83.3 grams. Three heavy skull and crossbones, two European anchor connecting links and one Argentium silver heavy magnetic link. This will fit an average wrist of 7.5 to 8". To add another skull & crossbones will bring it to ten inches. In between sizes would be adding joiner links. Standard lobster claw clasp is possible as well.
Clearance priced!
The following bracelets are one only available. They are liquidated inventory from a jewelry store chain and all assets were sold by the bankruptcy court. If you are a store you know where these came from and these can be marked up to three year old prices or today's price which is much higher. Most of these are 8" and will fit an average man, NOT a large man. These are dress bracelets and will not stand up to every day abuse of hard activity, sports, construction work, eta. Remove them and wear them when you change! Any jewelry will scratch, break or bend when pushed to the limits.
#BR932 - $95.00
Seven inch 7" stainless steel bracelet with onynx links and diamonds set in 14kt gold. 7/16" wide bracelet and 3/16" thick. Four black onynx links, three 2mm diamonds flush set in a 14kt bezel setting total .10cts. Trademarked AU and stamped 14kt Stainless Steel. Weighs 58.9gms 7" Brushed and high polish finish. Foldover invisible clasp. Retail was $350.00 with gold at $800oz Size cannot be changed. Will fit a small to mediuim wrist.
#BR593 - $45.00
Stainless steel bracelet with tungston bar link 8 3/4" long, 5/16" wide, 1/8" thick and 42.3gms. Retail was $120.00 with gold at $800oz Stainless is satin finished with tungston highly polished. Foldover clasp. 8" Sold Out
#BR949 - $95.00
Stainless and 14kt medical or ID bracelet in 8.25" length, 1/2" width and links are 3/16" thick. Heavy bracelet at 63gms. Easily engraved at a trophy shop, things remembered or a jeweler that can engrave stainless. Not all can. Retail was $350.00