Mermaid Jewelry
For hundreds of years sailors have talked of seeing a mermaid and her beckoning them to join her. The siren of the sea... That is where the idea for the original mermaid jewelry charm came from. In Ireland there are many legends, stories and folklore of the mermaids, selchies or seal skin people. The first, took place in Northeast Ulster, and her name was Liban. To be saved from a flood, she was given the body of a salmon. She was eventually baptised by St. Gomgal in the monastery of Bangor. He gave her the name Murgen, that is 'Sea-born' or Murgelt, i.e. 'Mermaid'. (The Overflowing of Lough Neagh.) You will find the mermaid on some family crests and shields. The areas of south County Wicklow, Ireland are believed to have been inhabited with mermaids. (the land of the sea-godess). Irish legend also has it that the manatee is the soul of the mermaid.
#SEAG192 - $985.00
The little mermaid, has finally grown up! The artist will not tell me if Darryl posed for this... there are lots of mermaids out there. But few are able to capture the essence of a woman in a face so small. Only another woman as equally as beautiful understands facial contours, crevices, the lines of a body, the turn of a tail, the flow of hair under water... wait until you see this face!
white gold with white pearl
Available with white pearl, black pearl or diamond. Matching earrings and a smaller version for the little mermaids out there just waiting for a chance to Splash. To meet the mermaid family splash here!
white gold with white pearl $665.00
yellow gold with white pearl $665.00
#MERTAIL - $345.00
Mermaid tail just for fun. Borrowed from the fish page! Perfectly formed fishtail or mermaid tail, you decide! 1.25" across and 7/8" tall without bail. Bail adds another 7/16" to dangle length. Finished on all sides, 3D front and back full round app 5.7gms.
#MERTALE - $245.00
Very slightly smaller and lighter monofin mermaid tale. 1 3/16" across, 3/4" tall plus smaller bail that adds 1/4" to total dangle length. App 4.1gms Great for necklace pendant, charm bracelet or large earrings. Sure to start some mermaid stories or tales!
#MERM035 - 3gms - $435.00
14kt small Steven Douglas mermaid charm or pendant. Her hair is braided to make up the bail or use her arm, or even both to change the angle. 1 1/8" tall. Made to order allow 3-4 weeks
#MERM010 - 10.9gms - $1,445.00
mermaid jewelry with her hair forming the bail for the chain. Curls of the hair and tail are joined. 45mm or 1.75 inches tall.
What's on your hook?
#MERFHYG - $475.00
Fishing hook necklace with mermaid new for spring 2012. Hook is high polish and mermaid is satin finished to show off detail. Hook opening is 4mm for your chain. 1 3/4" from top of hook to the bottom of her elbows. App 8gms Once hooked, there's no getting away!
#MDRING - $1,445.00
Wonderful Steven Douglas mermaid dolphin ring with seamless transformation. Diamond eyes
#1368 - $415.00 - 8.3gms
Smiling mermaid sitting atop a starfish friend. Double bail in the back and will work on an omega necklace chain. Also available on a sand dollar. Heavy, just over one inch tall.
#SEAM70 - $1,095.00
A mermaid and her porpoise dolphin friend riding the waves. She is 3D and the dolphin is hollowed out in the back. With the .03ct diamond eye, he can see for miles... the bail for the chain is made up of mermaid hair in the waves by Steven Douglas. About 1.2 inches across or 30mm. Chain not included.
#SEAM75 - $745.00
What better way to bring you luck when fishing... with a selchie Steven Douglas mermaid on your hook! 3D and perfectly poised. A little over one inch tall plus the twisted line bail. 14kt white gold hook and 14kt yellow gold selchie mermaid jewelry. 1 1/16" or 22mm from top of hook to bottom of tail. Bail adds another 3/8" or 9mm Allow 4-6 weeks
#MWGDD - $1,095.00
Simply stunning! 14kt white gold mermaid cast as a separate piece, affixed to 14kt gold dolphin with diamond eye and tail rhodium plated with diamonds! Total diamond weight .10cts!! When you've got it, flaunt it! Allow four weeks when not in stock. Stephen Douglas exclusive. Height from dolphin tail to mermaid hair is 1.25" or 31mm and dolphin nose to tail is 1 1/8" or 28mm. 3mmx5mm bail opening
#M110P - $542.00
Diving mermaid with 5-5.5mm pearl, about 1 1/4" long with bail under the tail fins. Finished on all sides with an incredible view of the undersea world! Add $30 for white gold.
#SEAM87 - $720.00
14k Steven Douglas mermaid diving to the depths of the sea with her .10ct diamond treasure! 1.25" long (33mm) and the chain goes through her tail. Matte beadblast finish with polished highlights in her hair and tail.
#1367 - $645.00
I know what you're thinking... why is the shell on the mermaid page! Look closely, see the tail? This is the back side of the mermaid shell pendant! She is sitting on the other side. Shell is spectacular in detail, polish and satin. Ave weight is 9.3gms. Shell is just about one inch tall and across.
#MER59 - $695.00
Two tone mermaid wrapped around anchor. Pivoting shackle bail with 4mm opening. Across the flukes is 7/8" or 23mm. From the tail to the top of the shackle is 1 3/8" or 34mm. App 6.5gms. Looks great with feminine pendant chain or heavy pendant chain.
#MERBH - $225.00
Small mermaid with flowing hair and arms. 1" tall and app 3.5gms. Tail and hair are textured while body, face and arms are high polished.
#MERNC - $285.00
Simple mermaid with built in necklace bale. 15/16" tall from the top of her head to the curve in her tail. Nearly 5/8" across her elbows. All high polished, finished front and back. Very curvy backside. App 4.8gms
#MER226 - $475.00
1 15/16" tall or 49mm with hidden bail that will accept chain or omega up to 10mm wide or 5mm round. App 7.6gms backside mermaid jewelry
#MER196 - $545.00
1 7/8" tall or 47mm with hands joined to hold onto your chain. App 8.9gms backside mermaid jewelry
#MER1040 - $355.00
1 5/8" tall or 42mm without the bail. App 5.9gms Mermaid holding dolphin dorsal fin for ride mermaid jewelry
#MER144 - $225.00
14k gold mermaid pendant reaching up to catch a shell, hidden bail for 3mm chain or 5mm omega. App 3.7gms, 35mm tall or 1 7/16". Very highly polished
#1376 - 2.3gms - $105.00
14k gold mermaid sitting on the rocks with one hand on her tail the other in her hair. Finished on all sides in 3D at 5/8" tall. Perfectly suited for a mermaid charm bracelet or necklace. Great size for a young girl.
#MER1375 - $55.00
Tiny mermaid charm or necklace pendant. 3D finished front and back. 1/2" tall and 3/8" wide. App 1gm
#1373 - $115.00
14k gold mermaid charm. She is small and ideal for a bracelet, pendant or young girls necklace. The mermaid has both hands in her hair allowing them the locks to flow in the water. Total height is 1/2" tall. Mermaid tail is pulled back behind her. Finished in 3D all around. App 1.4gms
#13095 - $245.00
14kt mermaid earrings dangle from half round ball stud, this mermaid has one arm up. Matching earrings with opposing image. Matches the pendant to the right. App 4gms, total dangle length is 3/4" or 21mm
#13094 - $185.00
14k mermaid earrings hanging from half round ball and post. Mermaid is 1/2" tall plus ball and loops. App 3.4gms
#00953 - $475.00
14kt gold mermaid that is hot stuff and knows it! Unusual jewelry design and is sure to attract attention. Very detailed, 3D and curvy mermaid as found on old traditional ships. Two bails so could hang from either side or both. Shown on 1mm cable for comparison. About 1 1/2" across and 8gms
#3898 - $155.00 - 2.5 gms
This little mermaid appears to be surfing on the crest of a breaking wave that shapes into a heart. All 14kt yellow gold 5/8" across
#1359 - $175.00
14kt Mermaid with tail swept up to herself. Very nicely shaped. About 1 3/16" tall and 5/8" across. App 3.1 gms
#1377 - $135.00
14kt gold mermaid, young and shapely! Her arms are outstretched and hands cupped as if holding something. About 1 1/4" high without bale. App 2.2gms
#MER1366 - $235.00
Underwater mermaid has just come face to face with a scuba diver and put on the brakes! 3/4" across and 1 5/16" tall, app 4.3gms
#MER1361 - $545.00
Mermaid pausing as she comes up for a breath of air just under the surface. Spectacular detail. One sided but appears 3D due to the depth. 3/4" across the tail, 1.5" from the top of her hair to the bend in her tail, 3/4" from her breasts to the back of her hair. Thickness is nearly 3/16". Weight is 9.2gm On the right chain, she will dance with you.
#MER1365 - $675.00
Mermaid in full round 3D finished on all sides. She has mermaid water wings on the back of her forearms. She could be wearing water goggles as well! Outstretched arms are 1.25" across, detailed tail is 11/16" across, top of her hair to the arch in her tail is 1.25" App weight is 12.3gms
#07090 - $225.00 - 3.8 gms
Larger Fairy or faery. The faery as the little people call them. Both identical in detail and quality. The only difference is size and weight. All yellow 14kt gold. - 1 1/16" across and 1 1/2" tall
#20108 - $300.00 - 5.0 gms
14kt yellow gold 3D image of king Neptune with trident and crown. The father of mermaids! Great detail and what a novelty. Originally we found this for the University of California San Diego! About 5/8" across
#NEP183 - $845.00
Awesome 14kt two tone King Neptune pednant! Done with white rhodium plating over gold for a shimmering two tone contrast. Just over two inches tall, back is hollowed out. This one will turn heads! App 11-12gms
#24213 - $720.00 - 12gms
Majestically poised, overlooking Nautilus, Neptune stands 1.75 inches tall from the top of the trident to the tail arch.
#8718 - 9.6gms - $575.00
14k King Neptune riding into Atlantis on a pair of dolphins holding his trident. One sided with various textures and levels of depth. 3/4" wide and 1.25" tall not counting the trident.
Mermaids of the world
These are mermaids from around the world exclusive to Seawear.
#MER0931 - $695.00
From the Celtic Isles and Seas the face of Wales, the sassiness of Ireland, the fight of the Scots and the body from the Nordic lands.
#MER0932 - $975.00
From the Meditarrean sea, the Medusa mermaid.
#MER933 - $745.00
From the Hispanic lands and Latino islands comes the most curvey and sultry mermaid, Necia.
#MER0934 - $795.00
From the Greek isles comes the fiercely proud and beautiful Rhea
#MER0935 - $745.00
From Russian and the Slavik countries the incredible Russian Mermaid Marina
#MER0936 - $745.00
From Hawaii, Asia and Polynisian Islands comes the Asian mermaid Terumi
#AS1194 - $35.00
Argentium silver 935 mermaid pendant One inch tall and 5/8" wide. Hand finished at the Seawear studio in Pennsylvania, USA. Approximately 3.4gms with amazing wear properties compared to standard sterling silver .925
#ASMER2 - $95.00
Argentium silver 935 mermaid necklace charm pendant. 1 3/4" tall or 45mm, 3/4" or 20mm wide across tail and hips. Finished on front side, back side scooped out, joined hands forms bail for chain. Polished body and high sheen satin on tail. Just for fun! App 7.3gms Made in USA at our studio in Pennsylvania
#ASMER230 - $95.00
Full round 3D mermaid in Argentium silver 935 1 5/8" tall plus bail, back side is detailed, bail pivots. App 7gms
#ASMER4132 - $75.00
Half round silver mermaid app 1.5" tall and app 4.2gms Back side is unfinished, pivoting bail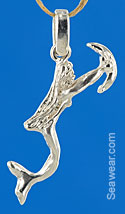 #MER634 - $50.00
Young mermaid holding a baby dolphin in outstretched arms. 1.25" tall, finished on all sides, 3D app