#BOT52 - $975.00
Incredible boat pendant done in the likeness of a Tiara 52 yacht. Solid 14kt gold, highly polished, back side is satin finished. Half hull cutaway so it rests flat against the wearer. The core is actually a thick hollow casting but you would never know it by the heft. This one is 16.3gms and to make solid core would add about 15gms more! 1 15/16" across from the bow to reverse transom and 1/2" tall or 49x13mm. Heavy fancy bail has 4x6mm opening.
#SPTF1 - $895.00
Sport fishing anyone! Handmade and completely rigged 14k offshore sport fishing yacht with tuna tower and outriggers.
#SEA471 - $875.00
Two tone 14kt cigarette boat pendant. Just under two inches across. Finished on all sides in 3D, approximate weight is 17.3gms Three outdrives! Looking down from chase helicopter
#SEA470 - $795.00
Two tone cigarette go fast boat with tinted windscreens! View from the chase helicopter. Finished on all sides, 360 degrees, triple drive, wind foil more swept back, higher wrap cowling, app weight 15.8gms
#SEA141 - $595.00
Offshore double V-8 inboard 3D
#SEA347 - $595.00
Offshore inboard racer. 3D highly polished 14kt
#BOT291 - $495.00
14kt two tone offshore sportfishing boat with the outriggers, flybridge and deckhouse done in 14kt white gold. 3D finished on all sides, app 7.3gms and 1.75" across or 37mm and 5/8" tall. Contrasting colors and finish of polish and texture.
#BOAT1332 - $445.00
Crouched below the wind line and wide open. 2 5/8 inch across app 8.3gms
#HOUSEBOAT - $375.00
Detailed houseboat with double hidden bails, water ripples on underside of hull and edge. 1 7/16" across; 9/16" tall. 37x14mm App 6.3gms Back side is scooped out and textured. Looks so real you can almost smell the coffee!
#YACHT136wg - $375.00
Motor yacht necklace pendant in 14kt WHITE gold. 1.5" wide app 5.5gms
#BOAT138 - $365.00
Magical 14kt boat pendant... just rub between your fingers and with any luck, whoosh you are transformed into the fishing towers! If not, this one is 1.75 inches across and will make you wish you were there! Almost 6 gms.
#YACHT136 - $355.00
Motor yacht pendant in high polished 14kt gold. 1.5" wide or 37mm and 1/2" tall or 12mm App 5.7gms
#15460 - $95-345
Sport fisherman jewelry with fly bridge and two outriggers. Sure to bring luck on your next trip! 1 7/8"; 1 3/8"; 1" App 6.8/4.4/1.8 gms
#BOAT445 - $335.00
Go fast or go faster! Two inches across. App 6.6gms
#BOAT1338 - $335.00
Very big V-8 intake sticking out! 1 7/8" across 6.7gms
#BOAT135wg - $325.00
Off shore center console fishing boat necklace pendant. 1 5/16" across and 9/16" tall or 32x14mm. App 4.7gms with pinned pivoting bail. Brilliant white gold without rhodium plating
#BOAT135 - $295.00
Off shore center console fishing boat necklace pendant. 1 5/16" across and 9/16" tall or 32x14mm. App 5gms with pinned pivoting bail.
#15450 - $295.00
Large 14k gold tunnel ram offshore race boat. 2 1/8" across (55mm) three textures, finished on front app 6gms.
#SEA225 - $295.00
Offshore triple outboard race boat
14k working tugboat jewelry pendant with three tires and a bridge. Perfect for tow operator or business! 1 15/16" across and 5/8" tall app 5.7gms
#BOAT139 - $275.00
Cuddy cabin cruiser set up to fish or overnight! 1 5/16" across and 1/2" to cabin top. App 4.5gms boating jewelry
#BOAT142 - $275.00
Speed boat necklace pendant, get there first or come in last fishing boat! Just over 1 1/4" across or 33mm. App 4.5gms speed boat jewelry
#1350 - 5.5gms - $275.00
14kt gold finished in 3D on all sides. Bail for chain is hidden under wing foil.
#BOAT1329 - $255.00
Race team with both hanging on! 1 3/4" across 5.1gms
#BOAT140 - $245.00
Cuddy cabin boat pendant 1 3/16" across and 3/8" to cabin top. 31x9mm App 3.8gms cuddy cabin boat jewelry
#BOAT141 - $215.00
Flats fishing boat, high polish, app 3.5gms 1 1/8" across and just over 1/4" tall at the center console. Flats fishing boat jewelry
#1326 - $195.00
Racing cat boat with tunnel ram looking straight down on two occupants hanging on for dear life! 1 5/8" across and almost 1/2" tall app 3.4gms.
#NAC-546 - $190.00
3D all gold authentic outboard motor. With a turning 3 bladed prop. Fresh off the designer's drawing board. Even has a gas cap! If you are a trailer boater, this is you! About 5/16" W and 9/16" H app 3.5gms. Solid yellow 14kt gold.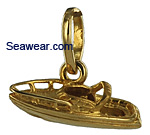 #1321 - $185.00
14kt 3D full round finished on all sides power sport boat charm or necklace pendant. Polished and satin finish, just over 3/4" across or 21mm and 3/8" tall. Approximate weight 3.2gms
#06714 - $135-175
14k gold sporty sport fisherman boat jewelry necklace pendant charm about 1.25" across app 2.6/3.4gms
#15455 - $165.00
Ocean racing speedboat looking down as if from helicopter! About 1 1/4" across and 5/16" tall app 3.3gms.
#1330 - $125.00
Cigarette type speed boat with rear spoiler, horizontal shot. About 1 7/8" across and 3/8" tall app 2.2gms.
#TRC-010 - $120.00
3-D Small hydrofoil-boat with V-8 and blower. Single seat. 7/16" wide and 7/8" long. Two deep-v pontoons. Engine is raised and very detailed app 2.4gms.
#TRC-011 - $115.00
3-D Deep V-hull with raised V-8 with blower. Single seat. Highly polished and detailed. About 9/16" long and 5/16" wide ap 2.3gms

#SEAD741 - $95.00
14kt Downeast Maine lobster work boat! 3D with pots stacked in the back and a little pilot house. Ideal size for a charm bracelet at 5/8" across from bow to stern and 1/2" high app 1.8gms.
#HOUSEBOAT.AS - $95.00
Argentium silver houseboat or canal barge boat with double hidden bails, moving through the water. 36mm across and 15mm tall App 4.6gms
14kt gold Cruise Ship Jewelry
#1288 - $305.00
Super luxury cruise ship! Half hull model that has the look of 3D but not the wieght and cost. Flat bottom and will stand on it's own. From stern to bow she is 1 1/4" app 6.1gms
#1289 - $225.00
Sleek world class cruise ship with 3D depth but created in a half hull model. Will stand up on it's own. Back is scooped out. 1 5/16" across app 4.4gms
#1293 - $225.00
Riverboat paddle wheel ship or gambling boat! 3D all the way around. The paddle does not move. Detailed with twin smokestacks. Perfect memory gift of the trip down south... 3/4" across app 4.2gms
#1316 - $215.00
Hawaii cruise ship penant. App 4.3gms, 1.25" across
#1315 - $215.00
Bermuda cruise ship pendant App 4.3gms 1.25" across
#SHIP656 - $205.00
Vertical hanging cruish ship, finished on all sides, 3D full round. The ship is 15/16" or 23mm and total hanging length with bail is 1 5/16" or 32mm. Fairly heavy at 4gms and would just as well for a bracelet as a necklace. Very detailed.
#1305 - $200.00
Alaska cruise ship pendant, app 4gms, 1.25" across or 33mm.
Also available as Hawaii, Caymans, Bahamas, St Thomas, Bermuda or St Martin
#1290 - $140.00
Solid 3D full round cruise ship charm. Ideal for bracelet or thin chain. 3/4" across or 19mm App 2.8gms
#01291 - $100.00
The smallest of them all! 3D cruise ship with pointed keel so she will not stand, 3 smokestacks, basic detail. Perfect for charm bracelet. Almost 3/4" across app 2gms.
#1324 - $85.00
Flat 2D pendant of a cruise ship or large luxury motor yacht. 7/8" across app 1.7gms
Ocean Waves Ring
Two tone gold ocean waves forever joined
Whitecap Diamond Wedding Band
Ten high cresting whitecaps and a single diamond