Viking Princess wedding set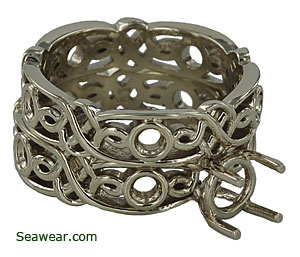 #CELVP26959 $775.00 USD
Viking Princess wedding set in your choice of gold color and karat! The engagement ring is ready for a 5mm gemstone or 1ct size diamond. Your jeweler will adjust to the exact size. The engagement ring and wedding band each will accept five .07ct diamonds. Ten total for the set of 2.7mm round gemstones
Each ring is approximately 5.5mm wide and 2mm thick. This set in size 7.0 of 14kt white gold weighs approximately 10.2gms. Your set will vary based on size, color and karat. The ring is 6.7mm wide. This size 7.0 weighs 6gms, yours will vary based on size, karat and color of metal. Thickness is 2mm. The ring would work for a gent as well.
Each is made to order and will take 3-6 weeks depending on the time of year and material chosen. The Viking Princess wedding set in 14kt would be $775.00 USD up to size 8. $50-60 per size over. Send an email for a price quote and a custom shopping cart will be created and sent to you.
The rings are done in the old world style of lost wax casting and not stamped out or rolled on a press to give the pattern.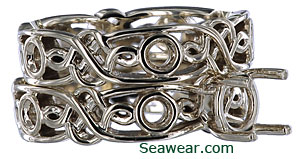 You can go back to Celtic wedding rings