Newgrange Spiral wedding band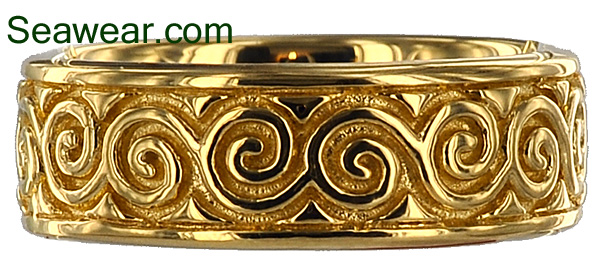 This Celtic Newgrange spiral wedding ring is made of intertwining spirals as inspired and found at Newgrange. There is no beginning and no end to the spirals. When you see where one ends, it actually is just the beginning of another. Each is made by hand utilizing the ancient lost wax casting method.
The Newgrange spiral wedding bands are made to last. At least your lifteme. They are thick at 2mm and 8mm wide. This results in a heavy wedding band made of lots of gold. This ring was made in size 10.5 and weighed 11.5gms in 14kt yellow.
The entire ring is highly polished, the background of the spirals will have a very slight texture, it will capture and dance in the sunrise, just as Newgrange.
It will take 3-4 weeks to be completed. The process of this particular ring was documented below. Size 9-12 is $995.00 in 14kt
You want a snug fit as the ring is heavy and you do not want it to fall off. The ring cannot be re-sized without ruining the pattern.
#NGSSW - $995.00
Making your Celtic wedding ring
You can go back to Celtic wedding rings