Claddagh wedding ring set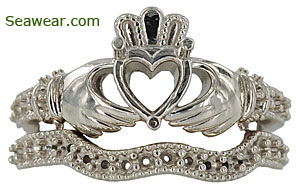 #CLWR26879 $695.00 USD
Irish Claddagh wedding ring set ready for to mount diamonds, gemstones or heirloom stones to be set and cherished forever. This is just the empty setting mount, without diamonds.
The heart of the Claddagh will accept a 6x6mm heart shaped diamond or gemstone. This equates to about 3/4ct diamond plus or minus. Your jeweler can modify it to fit your exact size. In addition, there are settings for twenty five (25) .015ct round diamonds (1.5mm) and eight (8) .01ct round diamonds or gemstones (1.3mm). These go along the sleeves and cuff of the Claddagh as well as the matching wedding band. French milgraine has been made all along the perimeter of the diamond settings. This simply highlights the diamond area.
From the bottom of the heart to the top of the crown is 10mm. The hands are 6mm tall. The ring shank is 2.5mm wide. The thickness varies from 1.75mm in the very back to to 3mm in the Claddagh. The underside is NOT scooped out or hollow. It is solid all the way through. The matching band is 2.5mm wide the same as the Claddagh ring. Once the gemstones are set, prongs tightened and polished, the rings will fit closely together. This ring set photographed is a size 7 and weighed 9.5gms in 14kt white gold.
This is a brand new design not seen or copied (yet!) elsewhere. Each is made to order and will take 3-6 weeks depending on the time of year and material chosen. 14kt or 18kt, yellow, white, rose, green, palladium white or platinum. The Claddagh engagement ring setting is done in the old world style of lost wax casting and not stamped out or rolled on a press to give the pattern. Irish designed and American made!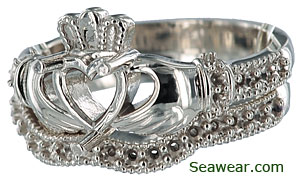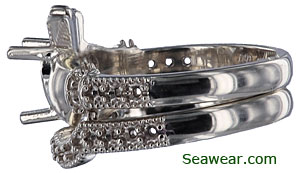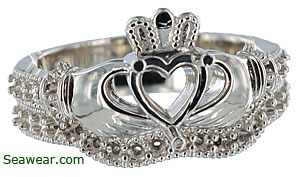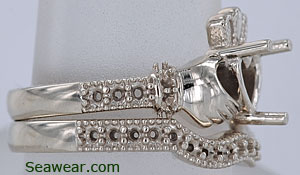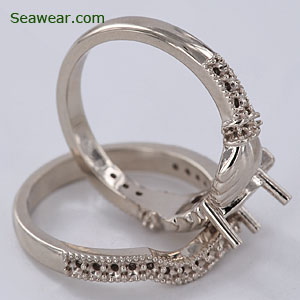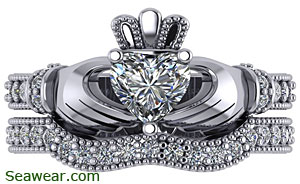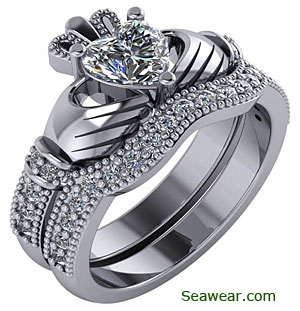 Computer rendition of what a completed ring would look like. Diamonds NOT included
You can go back to Claddagh wedding rings