Celtic knot band

These are made so please allow 3-4 weeks. Old fashion lost wax casting and not stamped out or rolled in mass quantity. 14kt, 18kt, yellow, rose, white gold or platinum.
The more you study the Celtic knots, the more you will recognize the patterns and sybolism. This starts out with (1) an enless eternal square. (2) An oblong interwoven loop. (3) A second oblong interwoven loop. Making Three endless ropes. Three for the trinity.
The Celtic knot band is done in identical panels and then a sizing bar to allow for future or present sizing.The sizing bar would also lend itself for a bezel to hold a diamong, emerald or gemstone. The Celtic band is just over 7mm wide. The thickness is just about 2mm over the knot panels and and about 1.5mm thick in the sizing bar. This model was a size 11 and came in at 8.3gms. Not a massive heavyweight band but you will knot it is there. There is a dome shape to it as well and not flat across.
Celtic Panel Knot band #CKB3536 - $695.00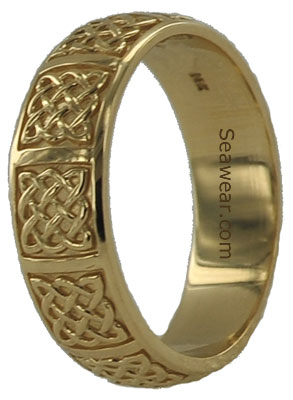 Copyright 1998-2017
You can go back to Celtic wedding rings or the main index!