Ladie's white gold Claddagh wedding band

This is the ladies palladium white gold Claddagh wedding band with princess cut diamonds. There is also a matching gents version
Simple, elegant palladium white gold Claddagh diamond wedding band.
The space between the palms and the heart has been left intact and solid. Where the cuffs might normally be found is a channel for four 2.0x2.0mm princess cut diamonds.
The width in the front is 5mm and gently tapers to 4mm in the back. The thickness over the Claddagh is just about 3mm over the heart; a little over 2mm over the diamonds and about 1.5mm in the very back on the palm side. Thick enough to have the mass to round all edges giving a comfort fit profile to this lifetime ladies white gold Claddagh wedding band. Any simple engagement ring will match up with this.
The Claddagh wedding ring shown in the images is a size 7 and weighs 6.5gms
The diamonds used are a VS clarity and GH color. The diamonds are hand selected for matching size and quality. Note the precise setting of the diamonds. There are four on each side for a total of eight. Size is 2.0x2.0mm which is approximately .06cts each. The ring has a total diamond carat weight of .42 carats.
This ring as shown is $1,395 USD up to size 8. If you are a store or prefer to have your own jeweler set you gemstones and size the ring, we can supply the empty ring setting for $595.00
We have two in stock ready to ship, a size 6 and a size 7
Palladium white gold uses palladium, a member of the platinum family to bleach the gold into white rather than nickel which is much less expensive. It will always look like this and never require rhodium plating to look 'white' again or to keep your finger from getting the rash.
Size 6
#CLADWBLPC8wg - 14k $1395.00 Size 7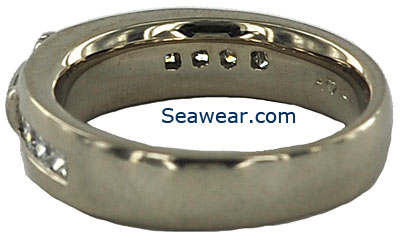 These images show the gents and ladies palladium white gold diamond Claddagh wedding bands with VS princess cut diamonds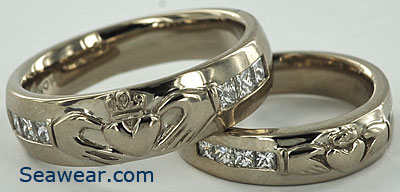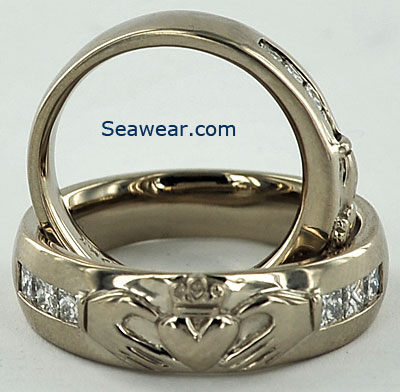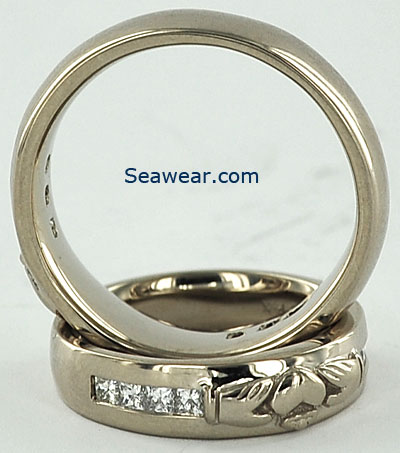 Back to Claddagh wedding bands and rings
Copyright 1998-2017
HOME | order faqs | order form | gold faqs | chains | customer comments |
IRISH CELTIC JEWELLERY index ~ FINE JEWELRY index ~ MARINE LIFE index ~ NAUTICAL JEWELRY index