gold Claddagh ring
#CR6236 - Claddagh ring is done in 14kt yellow gold, shown as cast in stock size 6.75 with plain back that can easily be sized up or down by any jeweler. Approximate weight is 4.4gms. Irish designed and American made. Allow 3-4 weeks for yours! 14kt, 18kt, white gold, rose gold, green gold, 18kt palladium white gold or platinum are all available. Price shown is for stock size 14kt yellow gold. Any other choices will take 2-4 weeks to be cast and priced on request.
#CR6236 ~ $345.00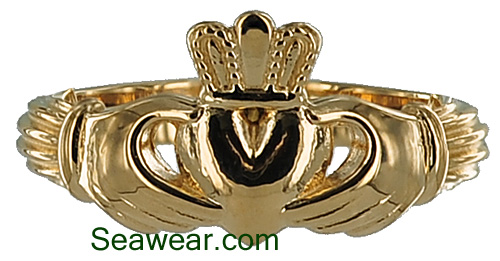 From the bottom of the heart to the top of the crown is 10mm or 3/8"
The sides of the Celtic knots are 4mm or 3/16" tall. What makes this Claddagh ring unique is the channel fluted sides that feed into the cuff. It is a very different design. The sides are 2mm thick and taper down to about 1.5mm thick in the back. The shank is a comfortable round contour and not simply flat.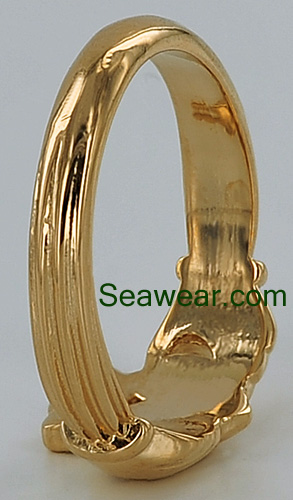 If you are a store and want to stamp it with your name, let us know to leave it unmarked.
This shows a polished ring and one that has just been clipped from the tree after being cast. The wide bump is the feed sprue where molten gold flows and is filed to shape for polishing.
The finish of the freshly cast ring is like a satin, thus the term satin-cast.
Above Celtic Claddagh ring can be seen in this batch of newly cast rings. Just completed 36 hours of extra fine walnut shell tumble and then on to the hand polishing.
Use your browser's back button to return to Claddagh rings main page