pierced Celtic love knot wedding ring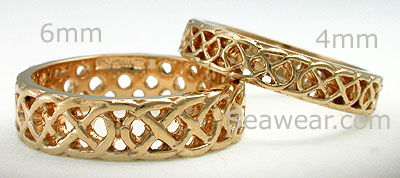 Pierced or filigree knot merely means you can see through to the other side. It looks more as if the knots were tied out of individual strands, rather than carved into the ring. You can order the ring as you see it or add the rails for added width or contrasting colors.
Ladies basic ring is 4mm wide and the guys 6mm. The ring is thick at nearly 2mm. Rail trim will add 2.5mm in width. These are hand made in Dublin Ireland and require 3-6 weeks for gold and 8-12 weeks for platinum depending on the time of year.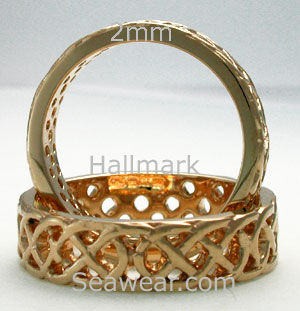 Narrow - $695.00 14kt yellow/white

Medium - $775.00 14kt yellow/white

Be 100% sure of your size as they cannot be sized and are not returnable to Ireland. Allow 3-4 weels and 4-6 at holidays and wedding season.

Under a dome without reflection of background

Natural light with high polish finish reflecting back

#WKN5051