childs Scottish Thistle Ring

This Scottish Thistle ring is Celtic made in the USA and designed for a child, young boy or small woman. The model was hand carved and then each is created with the lost wax casting method. Everything about the ring is hand made and hand finished. Not mass produced as each will be made to order for you to the size you specify.
The face of the Scottish thistle ring is 3/8" tall and and almost as wide, it is a slight oval, almost round at 10mm by 9mm. The front is 2.5mm thick and tapers to 1.5mm thick in the back. The back is 3.5mm wide with a dome finish for a very comfortable fit.
This ring as shown in the photos is a size 7.5 and weighed 5.3gms
These are made to order and will take 3-4 weeks. They can be easily sized as the back is left highly polished without pattern. The white gold is done in excess of the European Union Nickel Directive. It is a blend known as X1 and will Hallmark at any Assay Office as the gold content exceeds 14kt or .585
#THSTL03 - $345.00
10mm tall and 9mm wide or 3/8"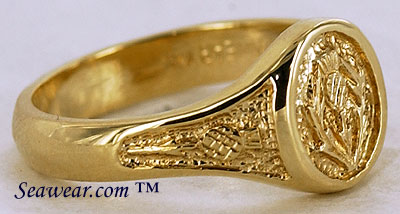 2.5mm to 1.5mm thick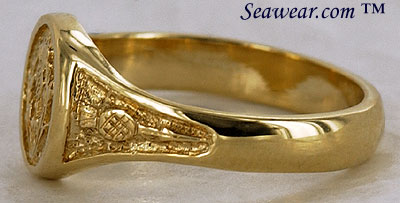 back is 3.5mm tall or just over 1/8"