Celtic History wedding rings

A wonderful choice for wedding bands and engagement ring that can be used to explain the history of Ireland and progression the Celtic ways.
The Celtic History ring starts out as 5mm band for ladies and 6mm for men. On the front of the ring are three symbols of Ireland. The Trinity Knot, Newgrange spiral and a shamrock. On the engagement solitaire the new grange spiral is replaced with prongs for a stone.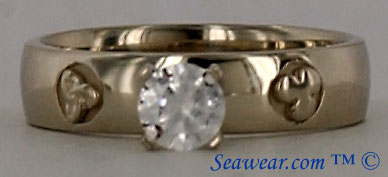 The setting as shown was for a round half carat diamond, was a size 7.0 and weighed 5.1gms. The width is 5mm and the thickness is just over 1mm. For proper sizing, alignment and color, they should be ordered as a set. Choose from four or six prongs in your diamond or gemstone size.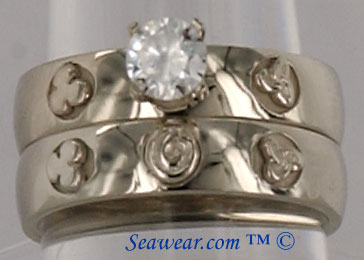 The matching Ireland symbols band is also a size 7, 14kt white gold and weighed 5.1gms.
The 14kt two tone set at the top of the page, the ladies was a size 7 and weighed 5gms and the gents was a size 10 and weighed 5.2gms.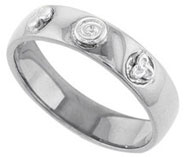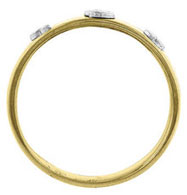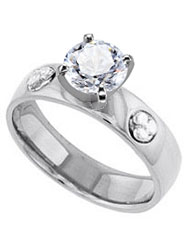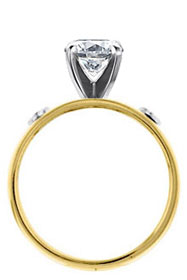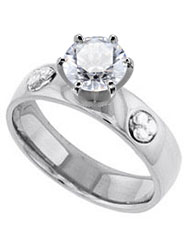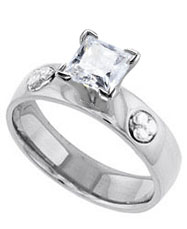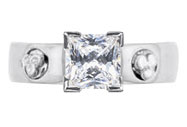 RETIRED DESIGN close out $295.00
#Symbols7 bands -
Ladies band size 7 -
Gents band size 10 in two tone - SOLD
#Symbols7 engagement setting 14kt white in size 7 -
Back to Celtic Wedding Bands or Celtic engagement rings