Celtic woven wedding band
Celtic woven braid of an eternal knot formation for your wedding band. Each band is individually cast, compact 6mm width and 2mm thickness. These are meant to last. The first set shown is a size 10 at approximately 7gms and a size 6.5 at 5gms.
Irish designed and American made. These are cast at our studio in Pennsylvania. Allow 3-4 weeks for yours!
#CWB3861
Size 5.5 to 7 $495.00
Size 7.5-10 $595.00
Size 10.5 - 12.5 $695.00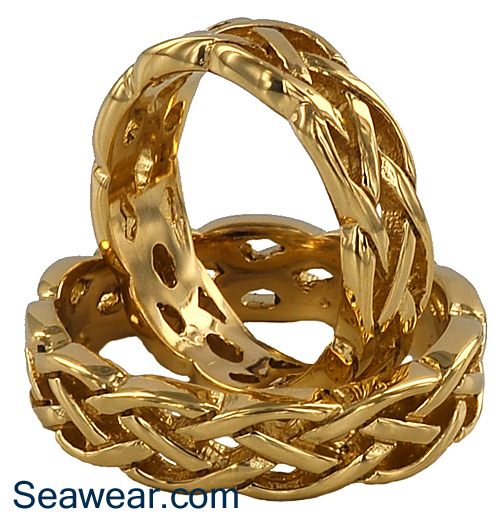 This ring is finished, having gone through the entire 4-5 day polishing process, hand polishing, three grades of finishing rouge and then waxing.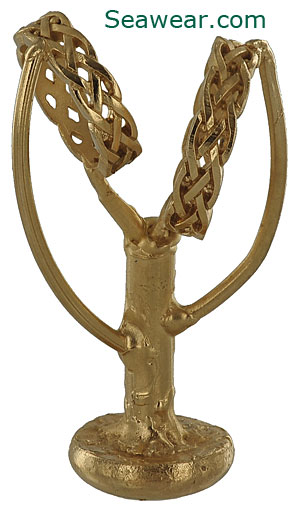 Freshly cast wedding set. These have been cleaned and are now ready for a five day process of polishing. This was four ounces of 14kt used to end up with two wedding bands weighing a half ounce! A lot of use and waste in the process.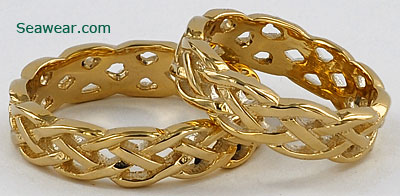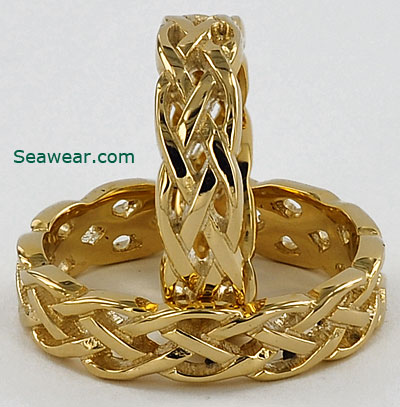 These have gone through three stages of wet finishing, four days of dry finishing and now ready for hand polishing. With almost no metal loss.
---------------------------------------------------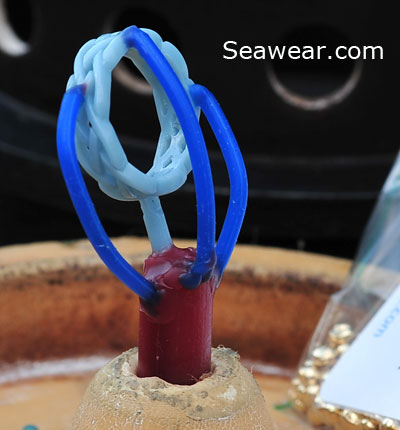 Special 18kt gold Celtic wedding band. You can see the fresh 18kt casting grain in the baggy ordered for the ring.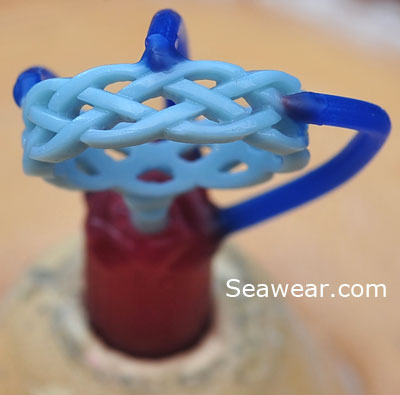 This was done overkill to be sure there was complete channels for all the molten gold to feed in and out of the Celtic woven pattern. I'd rather be safe than sorry. The waxes are fragile so only so much detailing can be done in the opening at this stage.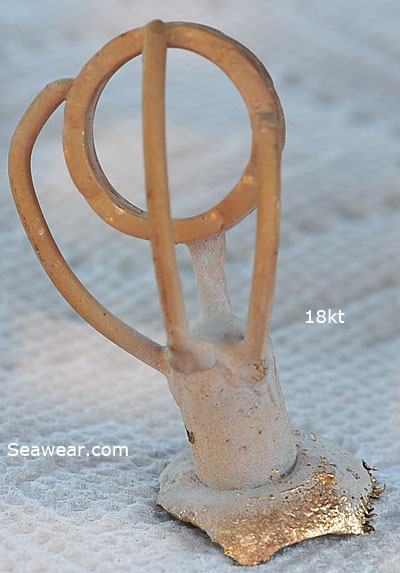 This was a single 18kt yellow Celtic band. Right after casting, you can see bits of color coming through on the bottom. This is still dirty from investment. Three additional feed sprues were added for a very dense fill. The ring finished at 7.1gms and took 42 grams to get there!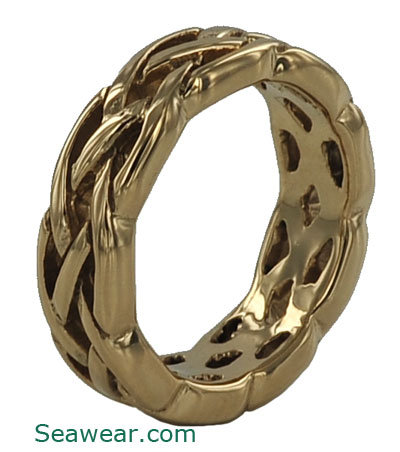 Size 5.0 18kt gold. Nice and thick to last a lifetime. The inside and outside edges where chamfered to be very comfortable on the fingers.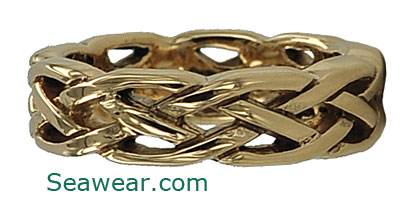 ---------------------------------------------------
April 2015 -Good morning Charlie,
I'd like you to know the ring we ordered arrived safe and sound yesterday.
Also, the picture online, although nice, doesn't do it justice.
We want you to know how pleased we are with the quality & craft of the ring.
It's really beautiful.
Thank you for your time and effort through the process, it is much appreciated.
I'm glad I took the time to find Seawear online and not settle for a manufactured ring elsewhere.
I'm sure we will be in touch in the future.
Best of luck,
Linda and Jim

Above Celtic woven eternity knot band can be seen in this batch of newly cast rings. Just completed 36 hours of extra fine walnut shell tumble and on to the hand polishing.
Back to Celtic wedding rings