Claddagh wedding band set model #717
Designed with the Irish theory that less is more. Simple, basic, heavy Claddagh wedding band. Made in USA by Seawear.
Designed as a Claddagh wedding band/ring to be worn for a lifetime, comfortably!
The gents wedding band model shown is size 9.25 and weighs 8.8gms in 14kt natural yellow gold; the ladies weighs 6.2gms
These can easily be sized by any jeweler. Sold in stock sizes as cast so you can have done locally for the lowest price. If you are a store and want to stamp with your name instead of ours, let me know on the order and I'll leave it blank for your stamp.
14kt natural yellow gold
Ladies Stock size approximately 6.25 $395.00

Gents Stock size approximately 9.25 $595.00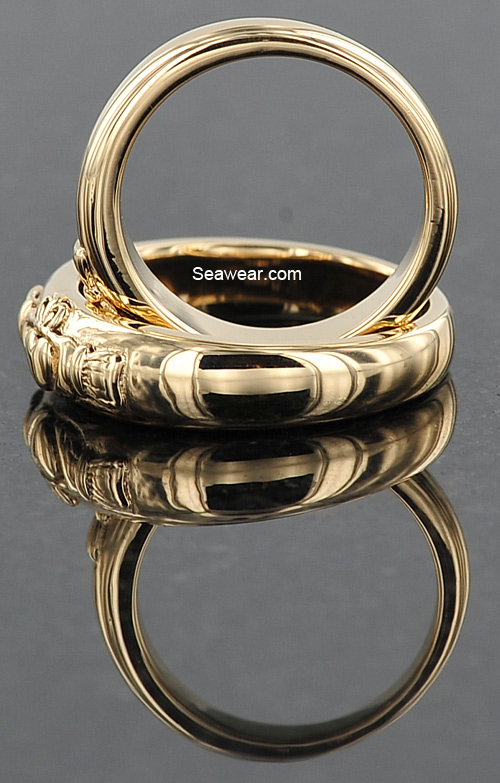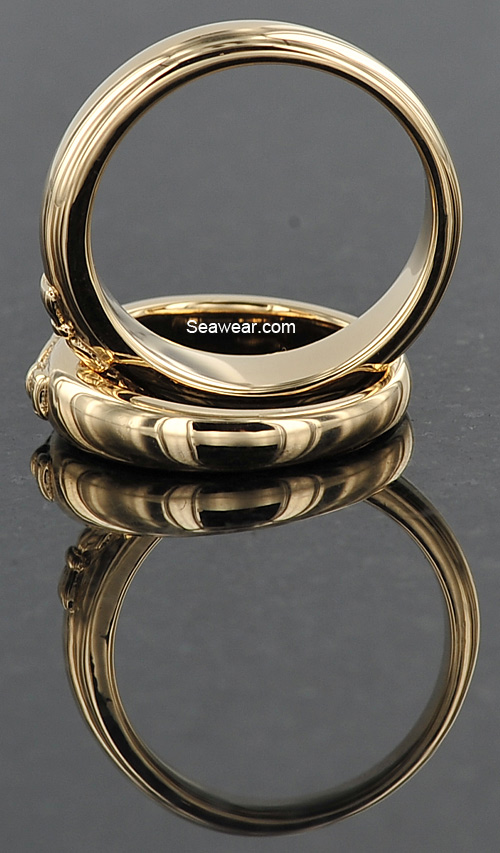 These are freshly cast Claddagh wedding bands and not yet polished. Sizing was done in the wax, extra wide and thick on the very large bands. These are still a perfect circle Claddagh wedding band union, never been cut and never been soldered. After casting it can take an extra 1-2 hours to shape the bands, finish and polish. The sizes listed in the shopping cart are on hand and can leave within 24-48 hours. Any other size to be made will take 2-4 weeks depending upon the time of year.
Ladies Claddagh wedding bands
Gents Claddagh wedding bands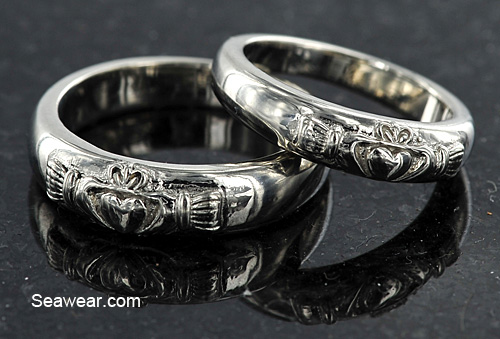 14kt premium white gold Claddagh wedding bands without rhodium plating
Ladies Stock size approximately 6.25 $445.00

Gents Stock size approximately 9.25 $645.00
-------------------------------------------------------
Platinum Claddagh wedding bands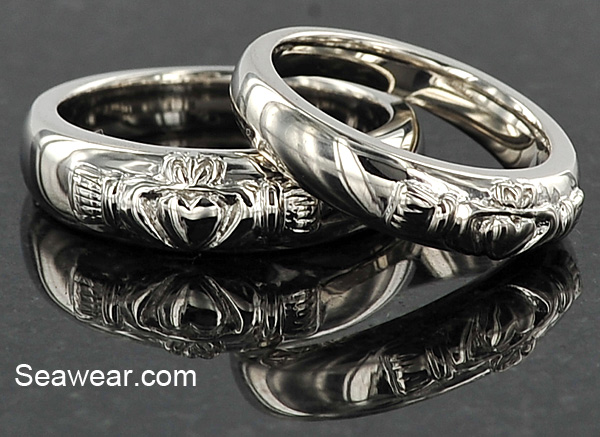 .950 platinum with .050 ruthenium. The highest quality available. Her band is a size 6.25 and weighs 9.9gms. His band is a size 9 and weighs 14.4gms. These are easily sized up or down by your jeweler and are in stock now. Making to different sizes takes a solid six weeks. Your local jeweler can do it in days. These are hand finished by Hoover and Strong for us.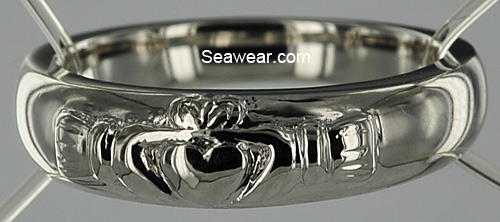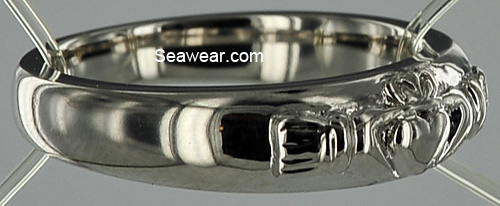 Ladies platinum Claddagh wedding band in stock size 6.25 in stock $1,195.00 #CLAD717LPLAT
Gents platinum Claddagh wedding band in stock size 9 in stock $1,795.00 #CLAD717GPLAT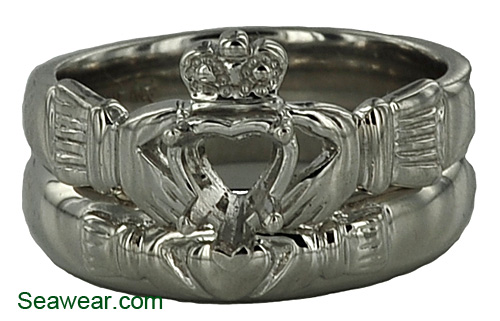 This is the ladies Claddagh wedding band with the platinum 06 Claddagh engagement solitaire setting.

The three ring Claddagh wedding set in platinum.