Claddagh ring enhancer

14kt yellow or 14kt white gold or platinum Claddagh ring enhancer. From the top of the crown to the bottom of the hands is 8mm. The opening between the fingertips is 3mm and the open hands is 8mm. The cuffs are 4mm tall. Depth/rise from the top of the finger to the top of the hands/crown is 4mm
Your jeweler can fit the enhancer to your finger size and conform it to your ring. It is meant to wrap around a small solitaire setting completing the look of a single Claddagh ring. It makes a nice wedding ring to compliment a heart or round diamond engagement ring. It is highly polished and detailed. 18kt and platinum can take 3-8 weeks.
#CLADEN - $295.00 - $895.00
We can have the ring made to for you, it will take 2-4 weeks and becomes non-returnable. You must be sure of your size. Sizing fee is based on the size and precious metal. $40-60 per size
At this time, the solitaire has been discontinued and for now, the only available ones are the ones in stock. Any new ones will have to be 3mm wide and will not fit the Claddagh.
After many requests, we have designed a solitaire that you can use with this Claddagh setting without worry. The solitaire is a 2mm comfort fit band with a five prong V setting. This one shown is for 1/3 carat diamond or heart shaped stone. It would work as well with a 1/4ct or 1/2ct or larger, depending on the look you want. This ring shown is .343cts; VS clarity and GH color. It is very nice. If you have been shopping, you know that!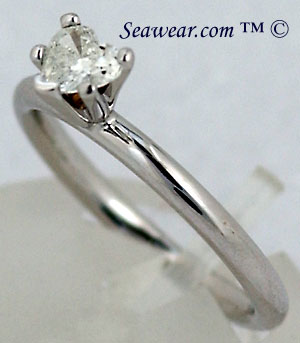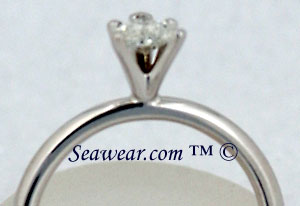 Solitaire with 1/3ct diamond VS/GH size 7.0 SOLD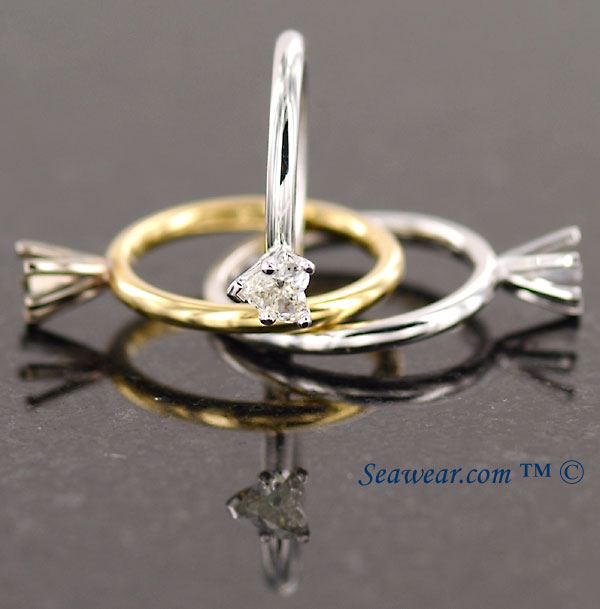 The setting by itself without any diamond would be $275 in yellow or white gold, with a setting for 1/4-1/2ct. These rings are in stock ready to ship now as shown in drop down menu of the shopping cart. The rings can easily be sized up or down by your jeweler.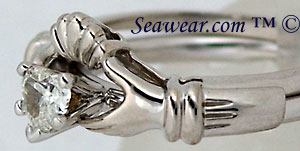 This is how the completed Claddagh wedding set would look.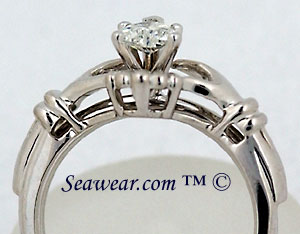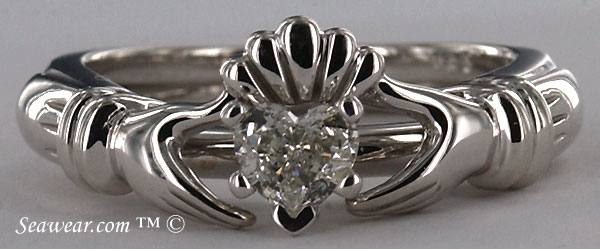 These are 18kt yellow with 18kt white prong setting for a 1/2ct diamond that went to another jeweler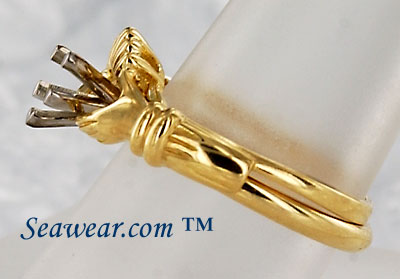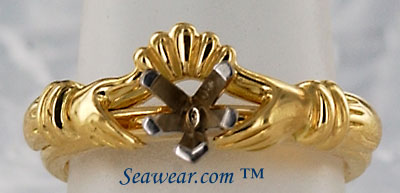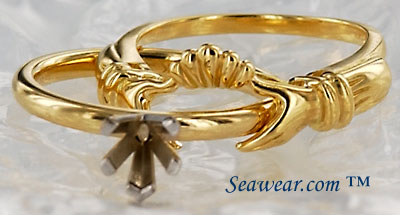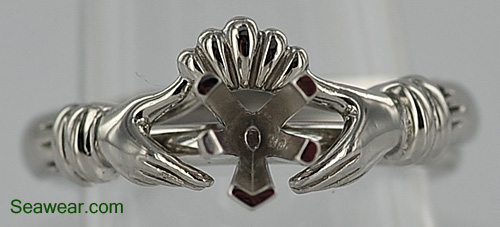 All ready for setting of GIA IF/D diamond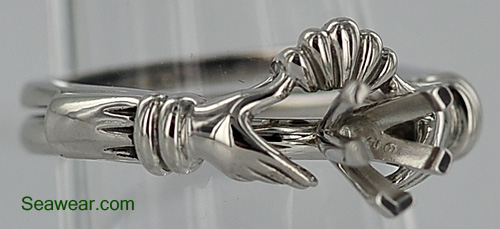 This set was done in 950 platinum including the prongs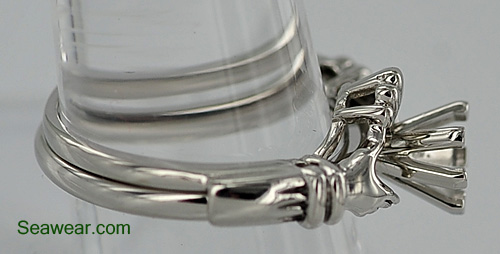 This is the way it will look forever as there is no rhodium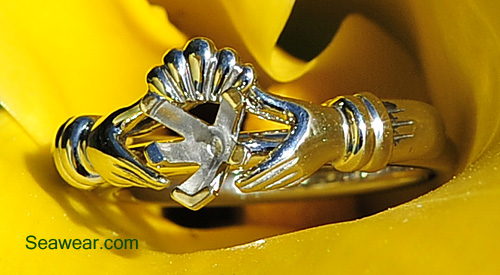 Outdoors natural sunlight inside a Calle Lilly
~~~~~~~~~~~~~~~~~~~~~~~~
#CLAD887 - $1,385.00 SOLD

Comes set with diamond.

.39cts

SI2 clarity

D color

Total weight is 2.94gms

Serial number laser inscribed for security. One year guarantee replacement insurance coverage included. Inside round band, not merely comfort fit. This is a size 6.0 and ready to be sized up or down by your local jeweler.

~~~~~~~~~~~~~~~~~~~~~~~~

#CLAD895 - $1,475.00 ~ SOLD

Comes set with diamond.

.43cts

SI2 clarity

F color

Total weight is 2.86gms

Serial number laser inscribed for security. One year guarantee replacement insurance coverage included. Inside round band, not merely comfort fit. This is a size 6.0 and ready to be sized up or down by your local jeweler.

~~~~~~~~~~~~~~~~~~~~~~~

#CLAD891 - $1,395.00 ~ SOLD

Comes set with diamond.

.40cts

SI1 clarity

F color

Total weight is 2.90gms

Serial number laser inscribed for security. One year guarantee replacement insurance coverage included. Inside round band, not merely comfort fit. This is a size 6.0 and ready to be sized up or down by your local jeweler.

~~~~~~~~~~~~~~~~~~~~~

#CLAD893 - $1,775.00 SOLD

Comes set with diamond.

.42cts

VVS2 clarity

F color

Total weight is 2.88gms

Serial number laser inscribed for security. One year guarantee replacement insurance coverage included. Inside round band, not merely comfort fit. This is a size 6.0 and ready to be sized up or down by your local jeweler.

~~~~~~~~~~~~~~~~~~~~~~~

#CLAD899 - $1,525.00 - SOLD

Comes set with diamond.

.45cts

SI2 clarity

G color

Total weight is 2.88gms

Serial number laser inscribed for security. One year guarantee replacement insurance coverage included. Inside round band, not merely comfort fit. This is a size 6.0 and ready to be sized up or down by your local jeweler.

~~~~~~~~~~~~~~~~~~~~~~~~~~~

#CLAD8889 - $1,325.00 SOLD

Comes set with diamond.

.39cts

SI2 clarity

E color

Total weight is 2.85gms

Serial number laser inscribed for security. One year guarantee replacement insurance coverage included. Inside round band, not merely comfort fit. This is a size 6.0 and ready to be sized up or down by your local jeweler.

Back to Claddagh wedding rings

~~~~~~~~~~~~~~~~~~~~~~~~~~
HOME | order faqs | order form | gold faqs | chains | customer comments |
IRISH CELTIC JEWELLERY index ~ FINE JEWELRY index ~ MARINE LIFE index ~ NAUTICAL JEWELRY index