Claddagh enhancer
Claddagh wishbone enhancer ring. Wear it by itself or with a stone set ring as a band. Solid 14kt, made in the USA, base ring is about 3.6gms. Tapers to 2mm in the rear, and 12mm in the front with the offset. Hands and Claddagh are about 5-6mm deep. Shank is smooth and allows for easy sizing anywhere. We can get the stock ring in size 6-7 out overnight, sizing takes 2-3 weeks and is quicker for you to get done locally. If it is complimenting another ring, you should have them sized and fitted together.
The ring is available as is to keep in stock for your customers, or we will size it for you. Allow 2-3 weeks for sizing.
#80943 - $295.00 in stock size which is between 6.25 and 7.25 and your local jeweler can size it to your finger.
If you would like it sized for you, allow 3-4 weeks and we will send it out to be done. It is then NOT returnable, exchangeable or refundable. So please be sure of your size.
This ring is the enhancer shown at the top of the page above, we have cut the heart out and set in a .26ct heart shaped diamond. This diamond is listed as follows
.26cts
4x3.2x2.6 measurements
VS E
My typical underselling will quote it as SI/VS and E-G. I see no inclusions under a 10x loupe and you can see how white it is agains a white gold ring
The diamond is slightly off center as it is truly too large. You would have too look very hard and close to notice it with the naked eye. The next ones will be smaller. This price is for this ring only, with this stone, in the size 5.75 and your jeweler can set to your finger.
$825.- SOLD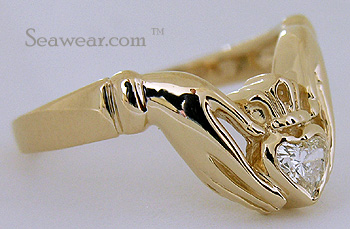 Same ring in 14k yellow gold. Diamond is approximately VVS clarity and approximately G color.
Approximately .21cts
When you look at it, you will agree it is beautiful. I believe the above grading is correct, with my under selling I will say it is VVS to SI and G to H color! Your jeweler can size up or down or remove the diamond and put it in your ring.
$795.- SOLD
Back to Claddagh rings or Claddagh wedding rings