Claddagh wedding ring set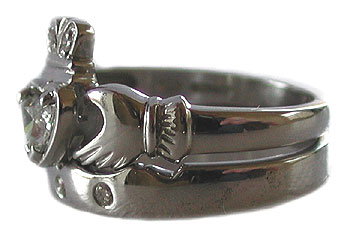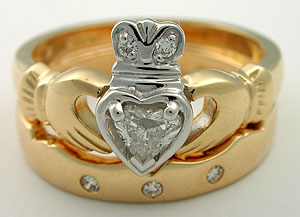 #3803 ~ $2,995.00
18kt white or yellow gold Claddagh wedding set. The Claddagh ring has a 1/4 carat heart shaped center diamond (SI/G-I) and two .01ct (1 point) round diamonds in the crown. The three diamond wedding band is fitted to match the 1/4 carat diamond Claddagh engagement ring and has three .02ct (2 points) diamonds flush set into the band. The set is available in 18kt yellow gold or 18kt white gold. There is no pattern on the shank of the ring and sizing can be accomplished any time. Diamonds are at least SI in clarity and G-I in color.
Allow four weeks to have yours made as it is handcrafted in Dublin, Ireland. Sizes are whole sizes only as of 2006. Any jeweler can size them up down an 1/8th, 1/4th or 1/2 size easily. It is no longer possible to import from Ireland, export back to Ireland for a size change and then import back again from Ireland. There is Customs Broker fees each way and taxes of 5.5-38% each way. Ireland will no longer accept returns on ring sizes from USA. So be sure.
Trying to capture the color of the ring and sparkle of the diamonds is impossible at best! These are varying degrees of natural light. A cloudy day and a sunny day. These are at least 10x magnification. It would be like looking at the ring with a jewelers loupe. And they tip the scales at 7.6gms. If I left anything out, let me know!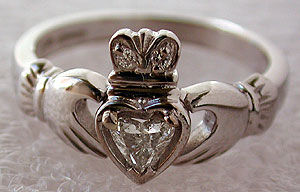 From the top of the crown to the bottom of the heart is 10mm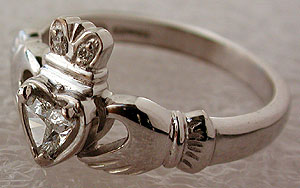 The hands are 5.5mm tall
The shank tapers to 2mm wide and 1mm thick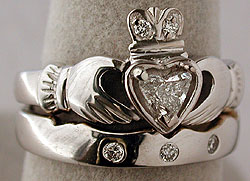 The matching band is 3mm wide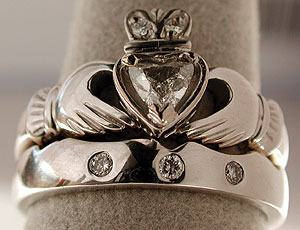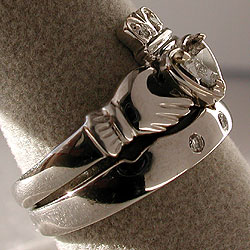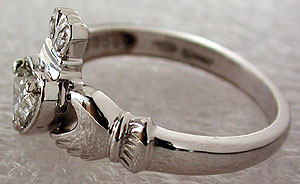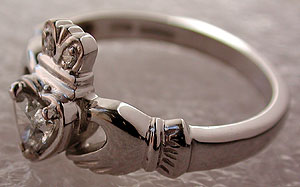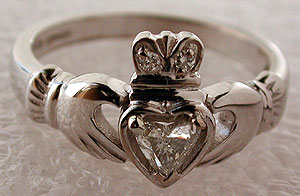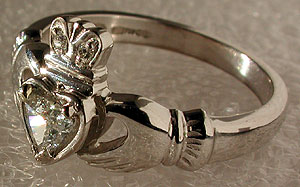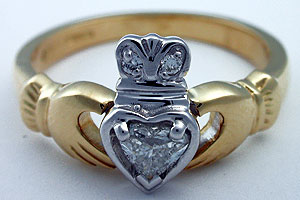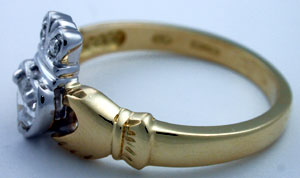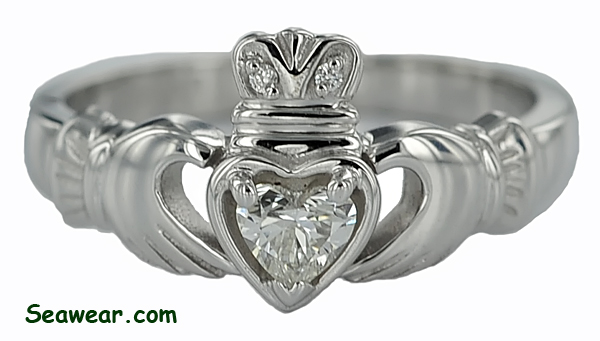 Back to claddagh wedding rings
HOME | order faqs | order form | gold faqs | chains | customer comments |
IRISH CELTIC JEWELLERY index ~ FINE JEWELRY index ~ MARINE LIFE index ~ NAUTICAL JEWELRY index