#Addolarato -
Sorrowful and Immaculate Mother Pray for us. Mother of Sorrows Pray for us. 25mm and 21mm across. One inch and just over 3/4".
21mm $50
25mm $70
#Angelo Della Buonanot -
Sweet child of mine, watch over sleeping children
21mm 3/4" $50
#Battesimo -
Baptism medal could be pinned or worn.
10mm 3/8" $20
14mm just over 1/2" $30
#Baptism 14kt
The smallest Baptism medal, 10mm and ideal to be pinned, worn on a light chain or ribbon for the baby. 3/8"
10mm $125
#Benedetto
Saint Benedict Patron Saint of Europe and of students. Saint Benedict Medal two sided
21mm 3/4" $55
25mm 1" $85
30mm 1.25" $145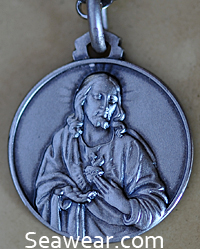 #Carmine Scapolare
Sacred Heart of Jesus, I place all my trust in you.
Scapular medal with Jesus on the front and Madonna or Our Lady of Mt Carmel on the back side.
18mm or 3/4" $40
25mm or 1" $90
#Communion
First Communion medal 16mm or 5/8" Could be worn or pinned.
16mm $40
#Ecce Jesus
Jesus wearing a crown of thorns looking up to God our Father. What price of love? May the merits of His sacred wounds heal the wounds of our souls.
Incredible detail with eyes that seem to follow.
18mm just under 3/4" $35
21mm or just over 3/4" $50
25mm 1" $75
#Fleur De Lis
Fleur De Lys, lily flower, is known as the symbol of purity and chastity. Given as a lily by the Angel Virgin Mary to Clovis, King of the Franks at his baptism. The lily is said to have sprung from the tears of Eve as she shed Eden. The three petals also may represent the Holy Trinity. While to some it represents faith, wisdom and chivalry. And for some mothers it represents the purity, strength and never ending love for her child.
23x35mm or 7/8" by 1.25" $65
#James the Elder
Apostle James, the first to be Martyred, brother of John the Apostle, also known as James the Great or Greater, patron saint of Spain, Santiago de Compostela in Galcia hold his remains. The Way of Saint James pilgrimage. One of Christ's three inner circle of disciples. The scallop shell was known as the emblem of St James.
25mm or 1" $85
#Miracolasa
Miraculous Lady, Mother Mary, Mary my mother, pray for me. Medal of Our Lady of Graces, a devotional medal of the Blessed Virgin Mary.
21mm or 3/4" $50
25mm or 1" $65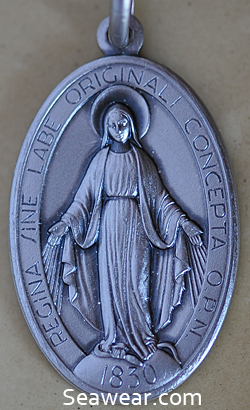 #Miracolasa Oval
Miraculous Medal, Medal of Our Lady of Graces, miracles of healing, conversions and believers.
This medal depicts the Blessed Virgin Mary standing on the earth crushing a serpent beneath her feet. Rays extend from her hands, the graces she shed upon those asking. The words around the frame in French, translate to 'O Mary, conceived without sin, pray for us who have recourse to thee.' 1830 is the date the medal was created.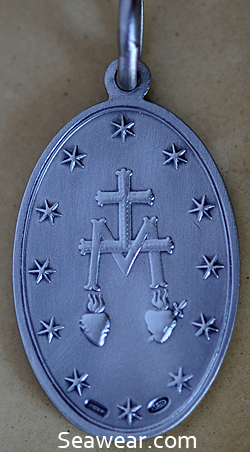 The reverse side of the medal is framed with twelve stars, twelve apostles. A cross and bar interlock with a large M, Mary. Underneath are two hearts beneath with flames from the top, the left sacred heart of Jesus has a crown of thorns while the right heart is pierced by a sword, Immaculate Heart of Mary who intercedes for sinners.
19x28mm or 3/4" by 1 1/8" $65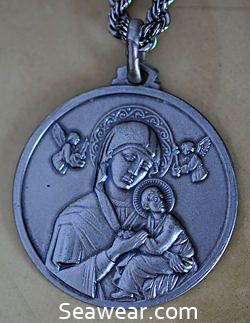 #Perpetuo Soccorso
Our Lady of Perpetual Help. A mother's love is forever. Thank you, my mother. Blessed Virgin Mary. Madonna and Child with two angels carrying the Holy Instruments of the Passion of Christ.
30mm or 1 3/16" $125
#St Antonio
Saint Anthony, Pray for us, Protect us. Patron Saint of miracles, lost items, the poor and travelers. Believed to have special powers of protection is often worn by sailors and fishermen for protection from the sea.
16mm or 5/8" $30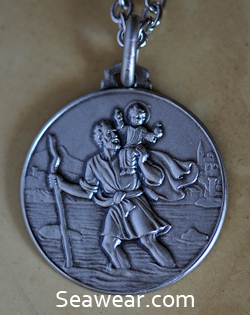 #St Christopher
Saint Christopher protect us on this journey. Patron Saint of travelers and of children. A large strong man devoted to helping travelers across a river, one an unknown child later revealed himself to be the Christ Child. Many churches have laid their cornerstone in remembrance of him. The name Christopher translates into 'Christ bearer'.
18mm or 3/4" $35
25mm or 1" $75
#Saint Christopher Medal Barocca
Protect your traveler
20x30mm or 3/4" by 1.25" $85
#St Michael
Saint Michael the Archangel, save us from evil. Protect us and deliver us in our daily 'battles' with our left and right shoulder angels. Archangel, leader of all angels and the army of God. Prince of the Heavenly Hosts, pray for us. Patron Saint of soldiers, police and doctors.
18mm or 3/4" $35
25mm or 1" $75
30mm or 1 1/4" $125
#Seggiola
Madonna della Seggiola is a medal of the painting of Blessed Mother Mary holding Christ the child while John the Baptist child looks on. The closeness of the mother and child, two heads touching represent the human motherhood and never-ending love of a mother to her child.
30mm or 1 1/4" $130
#Guadalupe
Our Lady of Guadalupe protect our families, defender of life. Five apparitions.
"No estoy yo aquí que soy tu madre?"
"Am I not here, I who am your mother?"
Holy Mary, Mother of the True God for whom we live, of the Creator of all things, Lord of heaven and the earth.
The tilma depicting her image is still in existence today and cannot be explained by science. It is believed the yearly pilgrimage to Our Lady of Guadalupe is the largest Catholic pilgrimage in all of the Americas.
18x28mm or 3/4" by 1 1/8" $65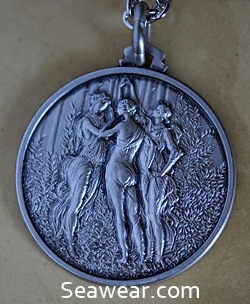 #Three Graces
Hope Grace, Faith Grace and Charity Grace, three sisters. Three virtues, with love (charity) the greatest of all.
"Love [Charity] never stops being patient, never stops believing, never stops hoping, never gives up" 1Cor 13:7
30mm or 1 1/4" $125