Princess Cut Diamond Claddagh Wedding Band

Gents Claddagh wedding band with six 2.5x2.5mm princess cut diamonds for a total carat weight of .58cts.
Face of the ring is 7.5-8mm tall. It tapers to 5mm in the back. The thickness of the ring is 3mm in the front over the heart and 2mm in the back. This ring in 14kt palladium white gold in size 10.0 weighs 10gms! This is a ring made to last a lifetime.
The ring is shown in high polish and could be done in a satin finish. All polishing and detailing is done by hand. It is available complete as you see, or we can supply a rough casting or completed for your jeweler to size and set your stones. Will export worldwide.
Standard diamonds are at least VS clarity and at least G for color whiteness.
One in stock in size 10 14kt palladium white with diamonds, can be sized up or down by your jeweler. Approximately 10gms. This is the only one stocked. We can order yours to be made, allow six full weeks. Approximately $80 per size over size 10.
Palladium white gold has palladium as the whitening agent rather than nickel. Palladium is in the platinum family. This is the color it will always be. There is no rhodium coating. This exceeds the requirements for any country and will pass customs anywhere. Even Switzerland.
Size 9 weighed 9.8gms $1,845.00
Size 10 weighed 10gms $1,925.00
CWB1176 - $1,925.00

Three princess cut diamonds of 2.5x2.5mm perfectly set by hand. Yes, men wear diamond wedding rings! Total carat weight of .58-.60 carats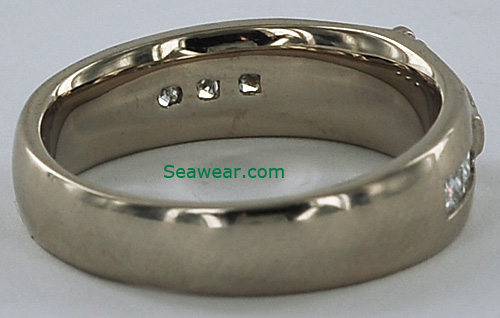 Back can be easily sized up or down. Note the overall thickness.

Ring is 3mm thick over the heart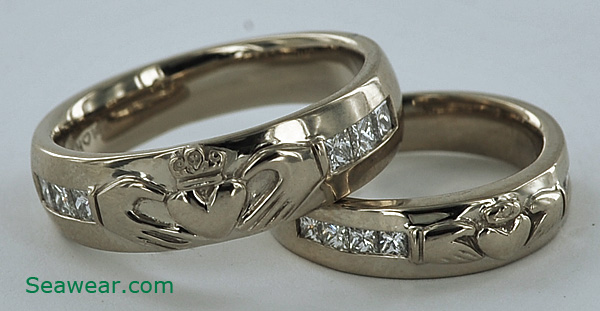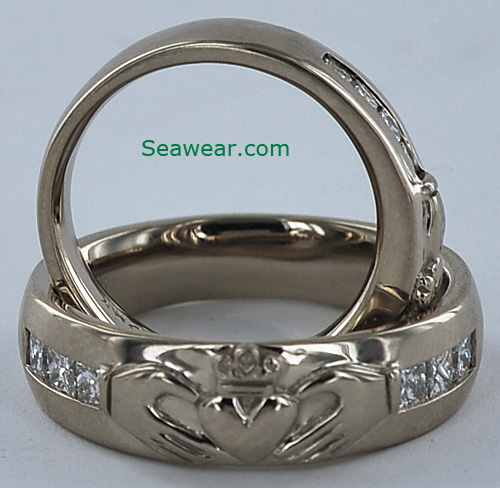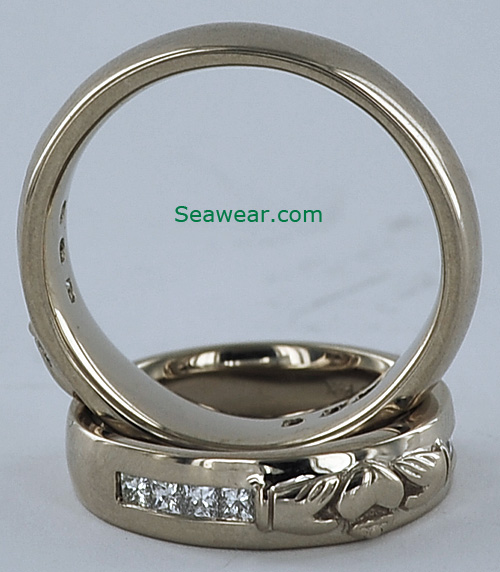 Back to Claddagh wedding rings
email info@seawear.com
HOME | order faqs | order form | gold faqs | chains | customer comments |
IRISH CELTIC JEWELLERY index ~ FINE JEWELRY index ~ MARINE LIFE index ~ NAUTICAL JEWELRY index