Irish Celtic past, present and future ring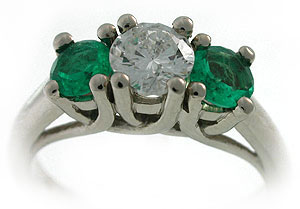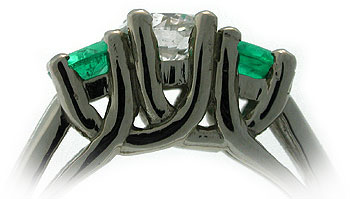 14kt white or yellow gold. Custom orders in 18kt or platinum priced by quote based on the daily market, Irish Celtic Past, Present and Future ring.
The first emerald symbolizes our Celtic and Irish heritage, what our ancestors toiled through, so that we may enjoy the diamond of today, the prosperity and wonder of life. The last emerald is for our future generations, that the past not be forgotten and the traditions be passed on to our children. Finally, the Celtic twist of prongs ties them all together. Bringing in all the Clans of Ireland, Scotland, Wales and beyond.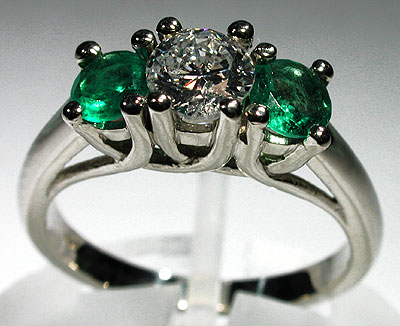 This particular ring is sold.
The ring shown is 14kt white gold with a half carat center stone and two outside stones of a quarter carat each. You should see it in person! The ring as shown is $2,950. You may order the ring without any stones and have your local jewelry set your stones. Just let us know the sizes as the Celtic prongs are an integral part of the ring and made to size.
Natural emeralds and diamond.
This ring is available now with .50ct VS/SI diamond and .55ct matching dark green emeralds $2,950- extremely fine stones. SOLD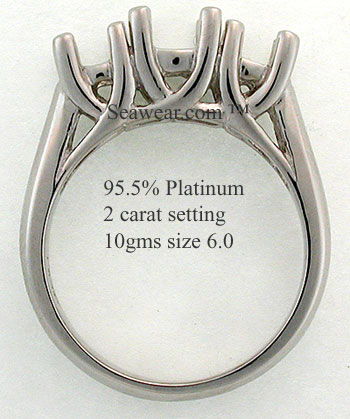 Platinum settings are $1,100-1,300 based on $850oz for 95.5% platinum.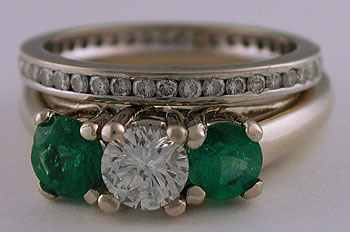 Pefect complimenting band. Simple eternity diamond band. As narrow as 2.25mm or as wide as 4.5mm. Whole and half sizes due to the timing of the diamonds.

Triple Certified GIA VS clarity H color 1/2ct diamond with AAA quality 1/4ct emeralds 18kt setting - $3,800 sold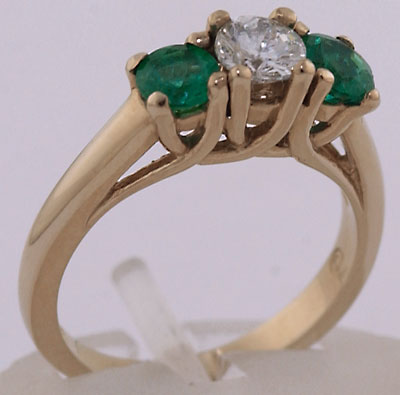 .53ct VS diamond, emeralds are .25 and .27 AA quality in 18kt white gold, white line on left emerald is lint! Size 6.5 - PPF1 $2,950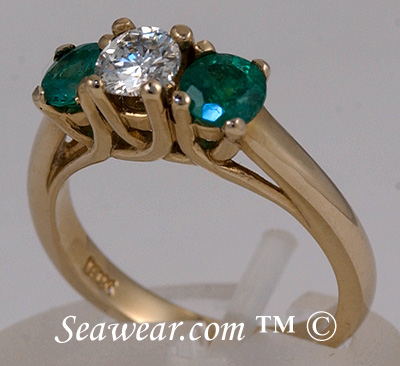 1/2 ct SI/VS center diamonds with two 1/4ct AA emeralds $2,995 SOLD
.51ct VS diamond, emeralds are .24 and .26 AA quality in 18kt white gold, size 6.5 - PPF2 $2,950 sold
If you prefer to pick out your own diamond, choose you quality, color, size and shape here loose diamonds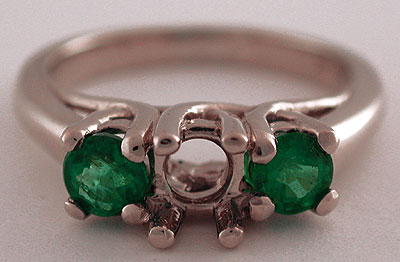 Size 5.5 18kt white gold with matching .25ct AAA emeralds. One emerald has a slight fracture next to a prong. (left emerald left bottom prong. Discovered under gem microscope) Could easily be placed under the prong by your jeweler. Center setting for 1/2ct round stone. Even knowing it is there, you cannot find it with your naked eye. With a 10x loupe, knowing it is there you can find it, with the back lighting of a gem microsope at 30x you can see it. PPF3 $995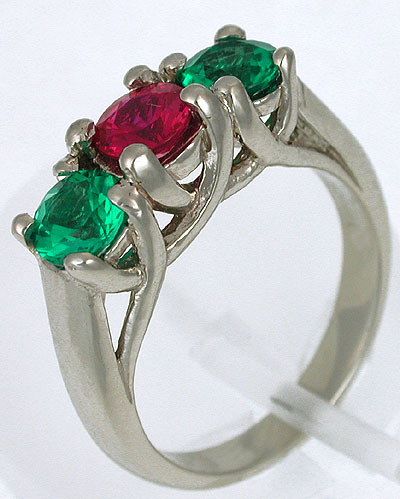 Three 1/2ct gemstones (1.50ct total) Empress lab grown emerald and ruby. $995 as shown in stock size 6.25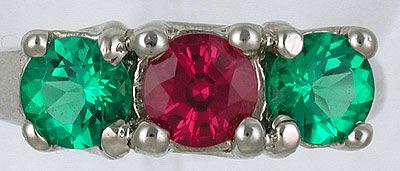 Two 1/4ct and one 1/2ct gemstones (1.0ct total). Chatham lab created emeralds and ruby. $695 as shown in size 6.25 SOLD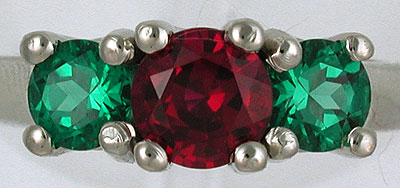 Lab created gemstones will have inclusions just like naturally grown. These are gem quality and would be thousands and thousands if they had been naturally grown. Another feature is that should one need replacing years later, it will be much easier to match up a color to an existing one.
Back to celtic engagement rings
email info@seawear.com
HOME | order faqs | order form | gold faqs | chains | customer comments |
IRISH CELTIC JEWELLERY index ~ FINE JEWELRY index ~ MARINE LIFE index ~ NAUTICAL JEWELRY index