Russian mermaid
The Russian mermaid is one of the most mysterious. When she looks at you, you cannot tell what she is thinking. Her name is Marina, which is the meaning of the seas. Like many of her land counterparts, she is incredibly striking! Her hair is parted and lifted by the waves of the sea, one making a perfect bail for a chain. A larger bail or loop could also be fabricated. Marina, the mermaid from Russia has been carved by hand by an artist, from Russia with love.
mermaid jewelry details:
Marina is 43mm or nearly 1 3/4" tall. The curvy tail flukes are 9mm or 3/8" wide. At her hips she is 7mm wide or just over 1/4". These images are enlarged considerably to allow you to see her features. Her skin tones have a very soft satin sheen finish while her hair and tail section are polished. She is solid, not hollow and completely 14kt plumb gold. On this day, Marina weighed 11.3gms and to me, she looks like she could still be hungry!
#MER935 - $745.00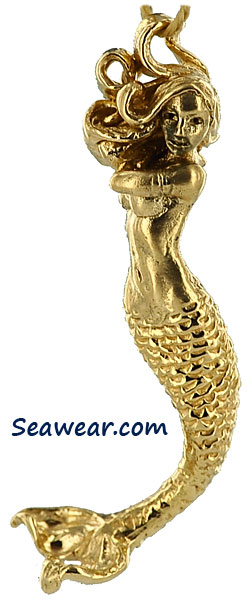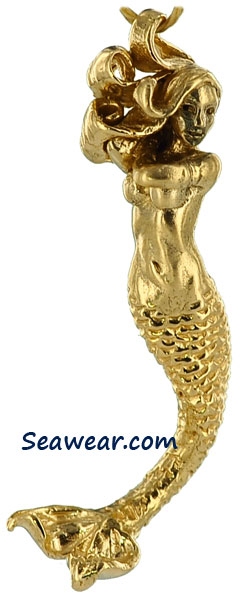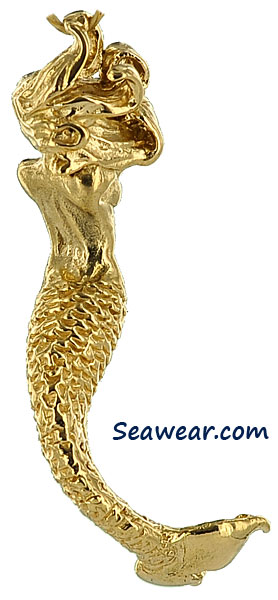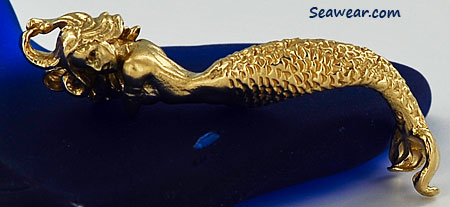 Please visit her mermaid sisters in the mermaids of the world jewelry collection of mermaid jewelry, neck ware, pendants and charms in the mermaid jewelry section