Medusa mermaid
In ancient Greece, there was Medusa, being the granddaughter of Okeanos (Ocean) and Gaia (Earth) of course she would have two forms. Land and ocean. With her wild hair of snakes and her wonderful body of the ocean, we feel she is a perfect match!
With a longer than most mermaids snake tale body, her beauty is unmistakable Greek. Medusa mermaid was the work of a world famous sculpture artist, who knows detail. These images are zoomed in 500-1,000% for you to see close up details of the mermaid jewelry. Note the details of Medusa's face, the snakes of her hair, real life body curves and belly. Best of all is her attitude. She has it and she knows it!
mermaid jewelry details:
Medusa mermaid is almost 1 3/4" tall or 43mm. Her gold weight is approximately 14.9gms and please do not let her know she weighs more than her mermaid jewelry sisters. The width of Medusa mermaid necklace is 3/4" at her elbow or 19mm. It is not polite to ask, but Medusa mermaid has hips just over 1/4" or 6mm thick. Her fluke tail is very subued at 7/16" wide or 11mm. The opening at the tail is for your chain up to 2mm or a simple loop bail could be added.
Her skin tones have been satin finished while the rest of her mermaid body is highly polished.
#MER932 - $975.00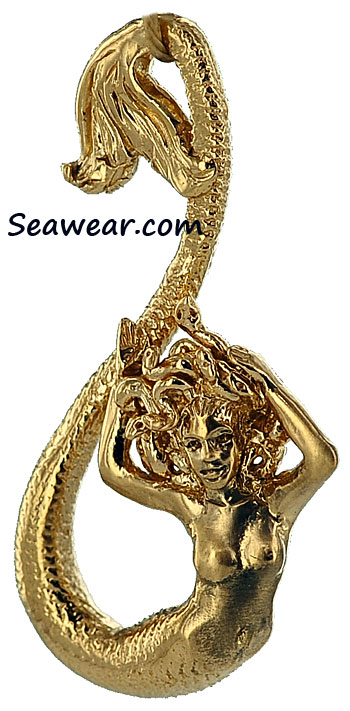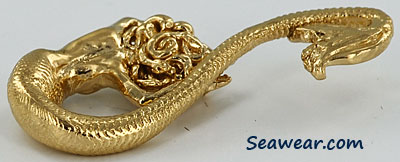 Please visit her mermaid sisters in the mermaids of the world jewelry collection of mermaid jewelry, neck ware, pendants and charms in the mermaid jewelry section