Celtic mermaid
Inspired by Valkyries, this Celtic mermaid jewelry necklace is full of beauty and magic and will enchant those who see you with her adorning you. Boann was the work of a world famous sculpture artist, who knows detail. These images are zoomed in 500-1,000% for you to see close up details of the mermaid jewelry. Note the details of Boann's face, small of her back, curvature of the ribs, abs and poise.
mermaid jewelry details:
Boann is 2 1/4" tall or 57mm. Her gold weight varies with lunch, but averages 10.5gms. The width of her mermaid necklace tail flukes is 5/8" or 16mm. Her hair has been swept by the current forming a jewelry bail for your chain of up to 2mm. A loop bail could be added if you prefer for your mermaid jewelry, the back side of her face had been left flat to include a hidden jewelry slide bale if desired.
Her skin tones have been satin finished while the rest of her mermaid body is highly polished.
#MER931 - $695.00

The perfect mermaid face from Wales.

with the sassiness of an Ireland girl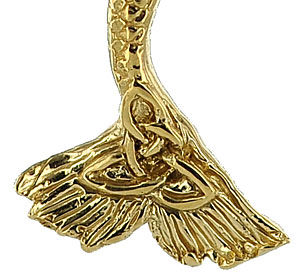 fierce Celtic pride of Scotland

a body strongly influenced by Norse Vikings
perkiness of the regions of Scandinavia
allure of Danish and English charms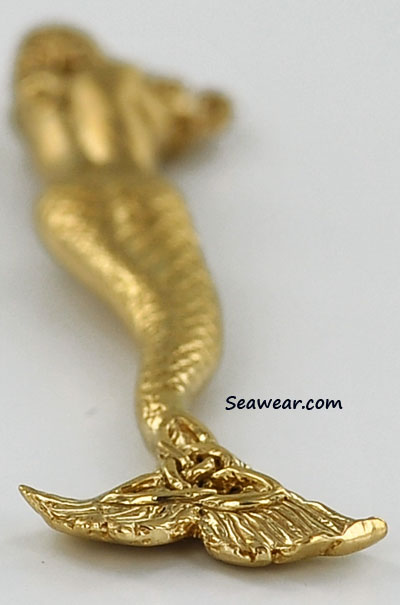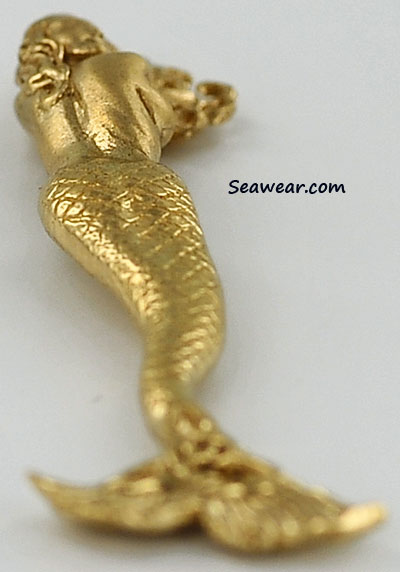 Please visit her mermaid sisters in the mermaids of the world jewelry collection of mermaid jewelry, neck ware, pendants and charms in the mermaid jewelry section